Kentucky is generally regarded as "The Horse Capital of the World," yet until now the actual number of horses in Kentucky has only been estimated. A more precise picture will be available soon, though, when the Horses Count project finishes its survey at the end of March.

A collaborative effort between the University of Kentucky Cooperative Extension Service, the UK Equine Initiative, the Kentucky Horse Council and the Kentucky Equine Education Project, the project is collecting anonymous information about the number and breeds of horses in the state. To encourage grassroots help in collecting that data, counties are being offered the chance to compete for grants to support youth-related horse activities. The grants, funding for which is provided by KEEP, will go to the 10 county Extension offices that count the most horses. Because the awards go toward youth-related activities, 4-H clubs in many of the counties are actively involved in collecting information.

Lori Garkovich, sociology professor in the UK College of Agriculture, said that Horses Count will provide researchers with more information than the U.S. Department of Agriculture census does. The census simply counts horses located on farms.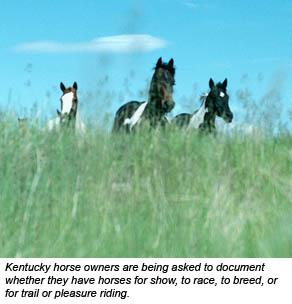 "We're asking people to tell us whether they have mares, stallions or geldings," she said. "We're asking them to tell us if they're registered and, if so, what is the breed registry. So that will be totally unique information."

The count also asks about a horse's primary use. Garkovich said this information will illustrate whether people tend to have horses for show, to race, to breed, or for trail or pleasure riding.

"We'll have a sense of how horses in Kentucky are being used, in addition to how many horses there are," she said.

Horse owners who fill in the questionnaire are also being asked if they would be willing to participate in follow-up studies. Currently, close to 90 percent of respondents wish to be involved in those studies. 

"We want to do follow-up surveys that assess the economic impact of horse activity in Kentucky," Garkovich said. "For example, what and where do people spend on their horses and their horse-related activities? It would also be interesting to learn where people do their horse-related activities. Are there opportunities to increase the number of horse events in Kentucky and so capture monies that are being lost to other states? Finally, knowing how many horses are in a county is vital if there is ever a disease outbreak."

If you are interested in participating in the Horses Count survey, contact your local Extension office or complete the online survey at http://www.ca.uky.edu/equine. The last day for participation is March 31.
Contact:
Lori Garkovich, 859-257-7581, Holly Wiemers, 859 257-4883