A two-day expo in northern Kentucky for beginning and expert sewers alike is packed with informative workshops and speakers. 
The expo is March 6 and 7 at General Butler State Park in Carrollton. Registration begins at 8:30 a.m. Tuesday, March 6, and the expo wraps up around 4 p.m. Wednesday, March 7.  With more than 15 full-day and half-day classes to choose from, participants are sure to find something to keep them busy.  At lunch on March 6, a panel of sewing entrepreneurs will discuss how to "Turn Your Hobby into a Business."
Rebekka Seigel, owner of Quilt Artz, will be the keynote speaker during a buffet dinner.  During her presentation titled "Women's Work," Seigel will share details about 12 women of the 20th century who inspired her paper doll (pattern) series.
"Seigel's presentation is an opportunity to review the pioneering women who developed some of the 20th century's greatest innovations in the areas of art, science, politics and human rights and redefined the term 'women's work,' " said Judy Hetterman, with the University of Kentucky Cooperative Extension Service in Owen County. "These women's stories are told through the garments they wore for defining moments in their lives. Rebekka will share the techniques she used to create her quilts and what it means to devote six years of your life to an idea and a body of work."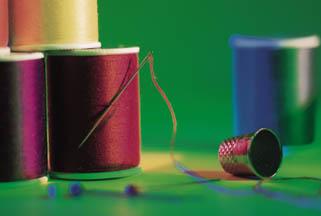 Some workshops offered include Old Fashioned Quilting, Internet Web Sites for Businesses, Building on History through Costumes, Reproduction of Antique Quilts, Basic Free-Motion Quilting, Embellished Jacket and Ideas in Appliqué. Other classes include Setting up Your Sewing Space, Trapunto, Make Color Work for You and Hand Appliqué.
Registrants who check in between 10 and 11 a.m. on March 6 will be entered into a drawing for a $50 fabric store gift certificate. Sewers will also have the opportunity to view interactive displays of sewing techniques and projects and shop a wide array of vendors in the exhibit and display hall.
The $80 registration fee is due by Feb. 1. Individual class fees are due by Feb. 20. Make checks payable to the Owen County Extension Service, 265 Ellis Hwy., Owenton, Ky., 40359-9300.  For more information or to request a registration packet, contact Hetterman at 502-484-5703.
Contact:
Judy Hetterman, 502-484-5703