An industry that touches every corner of the state is in its second decade of helping Kentucky's children. The Kentucky Forest Industries Association spearheads the Kentucky version of Log A Load, a national giving campaign that benefits Children's Miracle Network affiliated hospitals. Kentucky Children's Hospital, part of University of Kentucky HeathCare, has directly benefited from their generosity.

Log A Load refers to the idea of loggers contributing the value of a truckload of logs. But the philanthropic program has grown to include other forest industries, such as sawmills and paper manufacturers. Since 1997, Kentucky forest industries raised more than $235,000, money that was designated for several uses at the children's hospital. Three custom wood murals now grace the halls of the hospital, and a tree room invites children to play and learn about the forest. When the youngsters press buttons on the tree's trunk, the sounds of forest life emerge from its branches.

But the loggers' generosity goes beyond playrooms to providing two $250,000 endowments. The first, begun in 2001, targets pediatric heart research. The second, begun in 2006, focuses on recruiting people to the field of developmental pediatrics. Each five-year endowment was created with $125,000 from the Log A Load campaign and a matching state grant.

Forests are an essential component in the overall health of the commonwealth, providing critical habitat for wildlife, important filtering for watersheds, recreational opportunities and income for Kentucky's citizens. Careful harvesting of those forests plays an essential part in maintaining that health.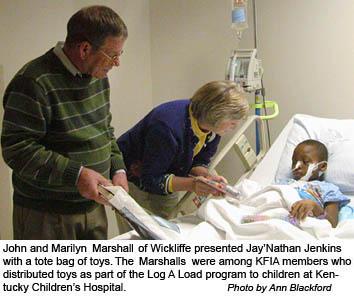 It's not the only way forest industries contribute to the health of the state. According to Jeff Stringer, UK associate extension professor in hardwood silviculture and forest operations, the forestry industry employs about 34,000 individuals and contributes approximately $6 billion per year to the state's economy.

"Of course, the logging industry provides the resource for that. So it's the front end of that $6 billion industry," he said. "Logging provides the raw material that drives hardwood lumber production in the state."

That's no small amount either, since Kentucky typically ranks in the top three hardwood lumber producing states in the country, producing approximately one billion feet a year, according to Bob Bauer, the forest industries association's executive director. Of the state's more than 25 million acres of land, 47 percent are forested. Of those 12 million forested acres, 78 percent are owned by private individuals. 

The renewable resource is more important than many people realize, Bauer said.

"Employment in forest industries is double what the coal industry is in the state, which surprises a lot of people," he said.

"The thing about this industry is, it's ubiquitous," Stringer said. "You've got some form of wood industry in 110 of the 120 counties in the state."

In the 11 years of its existence, Kentucky's Log A Load program has grown from a $3,500 contribution in 1997 to this year's total of nearly $37,000. John Marshall of NewPage Paper Corporation, located in Wickliffe, was instrumental in raising almost $14,000 this year. He and his wife Marilyn, who teaches in the Mayfield City School system, joined other Kentucky Forest Industries Association members recently as special Santas to deliver presents to the children in the hospital. Marshall was visibly moved after presenting a bag of toys to little Jay'Nathan Jenkins.

"I like children," he said, downplaying his role in raising such a large sum of money. "This was just a way for the loggers to get involved."

"They have a real heart for the kids," Bauer said, referring to the support from the industry. "We have some loggers who have had kids here (at the hospital), or they know of somebody. I think that's why they have an interest. I think it's also a program that recognizes the wood industry, so that gives them some incentive."

Bauer explained that many loggers struggle with an inaccurate public perception of them as "an evil guy that's cutting trees."

"Obviously, that's not true. They're making a living, managing a forest," he said. He hopes that one of the things the children take away from the hospital is a respect for the forest and a better understanding of loggers.

Loralyn Cecil, community relations manager with Kentucky Children's Hospital, has worked closely with the Log A Load program.

"They've contributed to the hospital to make the kids happier while they're in the hospital. Then on the other level, they've contributed to endowments to try to keep children healthier in Kentucky," she said. 

"It (the industry) is a pretty close knit community, and everybody has the same objectives, whether it's raising money for the hospital or managing our forests better," Bauer said. "Obviously for us, anything we or UK do to promote better forest management, it all comes around (to the people in the state)."