Women from six northeast Kentucky counties are learning basic farm management practices through Annie's Project, a six week program through the University of Kentucky Cooperative Extension Service.

Annie's Project is a program that provides basic agribusiness and farm management skills to women so they can become more knowledgeable business partners in their families' agricultural operations. 

"Typically, a farmer goes to town and takes care of all business transactions," said Jeff Smith, Fleming County agriculture and natural resources agent. "And the partner, the farm woman, is working at home, and she never really realizes who to see for the key programs. This program gives them firsthand access to that information."

Smith added, farm women can feel intimidated when attending agricultural meetings mostly comprised of men. 

"I think some of the women are reluctant to speak up at a farm meeting, but they definitely give input here at these meetings," he said.

Annie's Project was started by Ruth Fleck Hambleton, a farm business management and marketing educator with the University of Illinois Cooperative Extension Service. The project was named after her mother, Annette Fleck, who was a wealthy woman when she died because of the management skills she learned from 50 years of experience as a farm wife.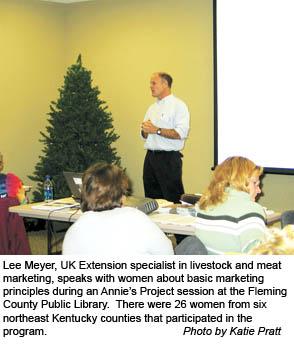 Kentucky is one of 11 states currently offering Annie's Project classes. Western Kentucky was the first area of the state to offer the program last year.

This is the first time the program has been presented in northeast Kentucky. This winter, it will be presented at eight different locations throughout the state. 

Smith said family and consumer sciences and agriculture and natural resource agents in Bracken, Fleming, Lewis, Mason and Robertson counties worked together to present the program to area women. The agents customized the program to fit the types of agriculture production in their part of the state, such as raising cattle and growing tobacco. He said he has received positive feedback from many of the program's 26 participants.

"The more you can learn about anything, the better off you are," said Rose Ann Masters, a participant from Fleming County. 

Masters and her husband, Charlie, own Masters Charolais in Mayslick. This is the couple's first full year in the farming business, having recently purchased the cattle operation from his parents. Since her husband works out of town, she is in charge of the day-to-day operations on the farm. In addition to cattle, the couple also raised seven acres of alfalfa and two acres of tobacco this year. 


Before she married, farming was a foreign topic to Masters, a retired teacher who grew up in Flemingsburg.

"My husband and I jointly do this farm, but he's not home," Masters said. "So for me to understand a little bit more about what's going on, I've been doing extension programs. I did the Master Cattleman's program last year. Then Jeff (extension agent Jeff Smith) told me about Annie's Project, and that sounded like exactly what I needed to keep better farm records."

Masters said that after the program she and her husband are going to create a farm plan based on the information she received through her participation in Annie's Project.

Like Masters, another participant, Shirley Porter, said she and her daughter, Tiffany, share the responsibility of their family's 700-acre farm in Lewis County, because her husband works out of town. They have timber and hay and raise cattle and horses.

"This program has kind of rounded things out," Porter said, adding that she has always kept the books for the farm. 

Tiffany Porter said while her mother manages the farm records, Annie's Project has taught her how she can manage her own finances using Microsoft Excel.

Smith said he plans to use questionnaires and surveys after the program is completed to evaluate the program. Some of the women have already approached him about offering a more in-depth session in the future.

To get involved or for more information on Annie's Project, contact your county's Cooperative Extension Service.