By her own admission, Brittany Michelle Hager is one of those people who wakes up at 5 a.m. to feed and check on her cows and then rushes home after school to spend more time with them. That's the same passion Mercer County teenager Dustin Worthington had. And that's the passion honored every year by the Dustin Worthington Memorial Fund.

Hager, from Meade County, was one of the winners in this year's "I Love Cows" essay contest sponsored by the memorial fund and open to all 4-H and FFA members in the state. The contest memorializes Dustin Worthington, a Mercer County teenager who, with his friend Dale Goodpaster, died in an automobile accident on April 4, 2000. A few weeks after the accident, a friend of the Worthington family suggested setting up a scholarship program in Dustin's name.

"I got to thinking about it," said Dennis Worthington, Dustin's father, "and it was like Dustin said 'Daddy, why don't you give a kid a cow? If he does it right, he'll make more with a cow than a couple hundred dollars will do him. And if he doesn't want to go to school, he doesn't have to. He can do what he wants to do with it. He might buy a farm someday.'"

Dennis Worthington had been active in 4-H and FFA when he was growing up and had won a hog by writing a winning essay while he was in FFA. Those early experiences formed the basis for the Dustin Worthington Memorial Fund and annual "I Love Cows" essay contest. 

"I went to the cemetery this morning," he said. "Every time I go I have to look at the back of it (his headstone) because it's got 'Dustin Worthington' and it's a picture of his truck and his cattle trailer and some cattle that were actually on his grandfather's farm. And it says 'cow hauler.'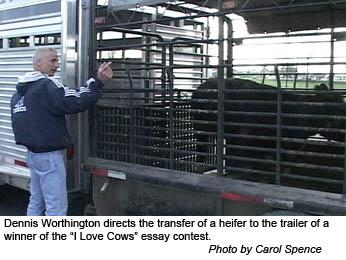 "That's what he wanted to do. He wanted to raise cows and haul cows and trade in cows. When he turned his cell phone on, it didn't say I love my girlfriend or I love my mother or my daddy, it said 'I love cows.' He just had a passion for the cattle industry."

Worthington contacted Dana Anderson, University of Kentucky Cooperative Extension agent for 4-H and youth development in Mercer County, who has worked with him in establishing program guidelines and getting information to state 4-H agents and FFA advisers.

"One reason that extension is involved is that it's a youth program dealing with livestock," Anderson said. "With the diversification that's going on in agriculture right now, a lot of farms are dwindling down and more kids are trying to focus on programs that they can establish to help them build character and establish farm programs for themselves."

The first two heifers were given away in Mercer and Boyle Counties in May 2000, one month after Dustin's death. Since then, 77 heifers amounting to more than $125,000 have been given to youth who have a strong interest in cows. Heifers awarded to the winners are acquired by the fund in a variety of ways. They are purchased with contributions to the Dustin Worthington Memorial Fund or donated by participating farms and local cattlemen's and dairy associations. Many winners donate their first-born heifer calf back to the program. 

"It's not mandatory," Worthington said. "You know, a gift isn't a gift if you have to give it back. But if a kid decides that they want to give it back, that means more to me. Then they feel like they've done something, too."

Some previous winners attended this year's awards ceremony at Boyle County High School. Megan Cole, of Garrard County, won a registered Angus heifer in 2005. Since then she has shown the animal and accumulated a number of prizes, including two grand championships and first in her class at the Kentucky State Fair in 2006. Cole told the audience that she is closer to cattle because she wrote the essay. Her herd has since grown to 13 head of registered Angus cattle. She was honored to give a heifer calf back to the competition, she said, "with the hopes that someone can have the experience that I have had."

Dennis Worthington said that the competition can mean a great deal to the winners. He has stayed in touch with one of the first year's participants who by 2006, Worthington said, had nearly $30,000 worth of cattle "standing in the field from that first heifer he got the first year."

"I think that's grown close to a $100,000 worth of cattle (by now)," he said. "He's really dedicated himself to what he's doing and got some really good bloodlines going from that. I think they can make it as big as they want to. It's up to the kid."

This year's competition had 15 county winners from 10 counties, as well as two statewide winners. For a county to be eligible for the competition there must be either a heifer donated by a local farm or a minimum of 10 to 15 entrants from that county. Youth who live in counties without a contributing farm or the minimum number of entrants can enter the statewide 4-H or FFA divisions. The 2007 competition received 88 essays from 31 counties. This year the memorial fund awarded the highest number of heifers in the seven years of its existence, including 14 beef and three dairy heifers.

County winners included: Brandy Jo Hosley and Caleb Fogle from Anderson County; Casey Yates, William Sims and Caleb Ward from Mercer County; Kelly Craig of Washington County; Stacy Thacker of Garrard County; Paul Brady from Marion County; Ashley Gifford of 
Mason County; Ethan Grubbs of Madison County; Dylan Barber and Joshua Smith from Taylor County; Michael Dodson and Maggie Bonner of Warren County; and Cody Snyder from Lincoln County. The statewide winners were John Asberry from Clinton County and Brittany Hager of Meade County.

Anderson said that winning this competition can mean a great deal to these teenagers. 

"By establishing this one heifer, and (seeing) how it grows and strengthens their individual farms and starting their own programs at home, and not having to ask their parents for it, they're establishing their own identity with their own animals and learning how to take care of them," Anderson said. "It's been a great avenue for them."

"As a 4-H agent, I'd like to see this program grow," she said. "It does benefit kids, whether you're 4-H or FFA."

The mission statement of the foundation is a simple one: keeping memories alive by improving the future for Kentucky's farm youth.

"My goal is to introduce Dustin to as many people who didn't get the opportunity to know him. That's what it's about. He was a kid worth knowing," Dennis Worthington said.

For more information about how to enter the annual competition or contribute to the fund, visit the official Web site at http://www.dustinworthingtonmemorial.org. Contributions to the not-for-profit foundation are tax deductible.
Contact:
Dana Anderson, 859-734-4378, Dennis Worthington, 859-734-6962