Brittany Wilkinson and Eric Klingberg, Adair County 4-Hers, are hoping their heifers give birth to female calves so a chain project recently begun in their county can continue.
Adair County 4-H Council President Floyd Burton came up with the idea of a heifer chain project after reading about similar projects for heifer sales. In addition to teaching 4-H members about showing, breeding and responsibility, Burton thinks the project can help improve beef and dairy herd genetics in the county.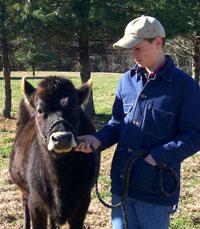 "We're giving these kids a heifer, usually at weaning age for beefs, about six months for dairy," he said "They raise the heifer, breed it, and if they have a heifer calf, they give it back to the project to pass on to another youth in the chain."
When Burton first approached Tony Rose, Adair Co. Extension agent for 4-H and youth development, with the heifer chain idea, Rose knew they would need funding to get the project started and to keep it going. Around that time, funds from the Phase I Tobacco Settlement were becoming available for grants. Rose applied and received a Phase I grant, then he and Burton got the program going.
"The youth apply and then our committee reviews the applications," he said. "After we get down to a certain number of qualified individuals we get out and do site visits and meet with the parents before the committee makes a final decision."
Rose said the committee members meet with the kids and their parents to discuss the expectations of the project and their responsibility. He said they try to get the heifers from local producers and then deliver them to the participants.
"We work with the kids a lot to get them started," Rose added. "We had a clinic about showing and we've also had some educational classes about feeding rations."
Wilkinson, a sophomore at Adair County High School, had never shown livestock of any kind until she received a black angus heifer, whom she called Lady, for the heifer chain project. Lady placed seventh in the county show, and Wilkinson was happy to place above some who had been there many times before. She thinks having Lady has taught her a lot about responsibility and leadership.
"You have leadership in your community because you're looked at as a heifer chain participant all over the county," she said. "I took her to a farm safety camp and now, I'll be walking around in town and there are still sixth graders who were at the camp who recognize me as the girl with the heifer."
Klingberg, on the other hand, is a veteran to the show ring. The ninth-grader said he has shown a lot of jerseys in the past, so it was second nature when he received his jersey heifer, whom he named Ellie, through the heifer chain project.
"I like showing a lot and record keeping," he said. "I've learned a lot responsibility and that's very important. You learn a lot about the animal, too. I sure hope she has a heifer because it would be nice to let somebody else try."
The 4-Hers aren't the only ones involved in the project at home. Parents and siblings become part of the equation as well.
"It amazed me how one of the parents said her daughter and her husband are spending more time together on the farm now," Rose said. "She's a high schooler and was getting away from being interested in the farm, but they say this had gotten her back involved."
The Klingbergs, who homeschool their children, are impressed by the family nature of the project. Eric's father Mark said the most important thing his son is learning from the heifer chain project is responsibility. His wife Carol agrees.
"It's a good program in that the kids learn to take care of an animal, but they also learn that they have to give back to the project," she said. "It encourages them to help someone else and give someone else a similar experience. Hopefully Ellie has a heifer and someone can have a good experience because of that."
Burton and Rose expect the project to go on indefinitely and someday be able to fund itself. This year, six youth were chosen to participate, but that number could rise in the future. Burton said it's been more work than either of them expected, but that working with the youth and their parents has been a "whole lot of fun."