New facilities at the West Kentucky 4-H Camp are allowing campers to enjoy the companionship of horses, as well as teaching campers the responsibilities of caring for them. This is the first year horses have been part of the camping program for the entire summer and this is the only 4-H camp to offer a horse program in Kentucky.

The new facilities include an outdoor working area, a covered arena and a large storage facility. The equine program is a cooperative effort between the equine program in Murray State University's School of Agriculture and the University of Kentucky Cooperative Extension Service. 4-H volunteers along with staff from the two universities worked together to brainstorm ideas, write grants, secure donations and do physical labor to develop the program and facilities. The bulk of the funding came from a Kentucky 4-H Foundation Venture Grant along with the Kentucky Horse Council and the Kentucky Equine Education Program.

"About a year and a half ago, the 4-H agents who camp at West Kentucky voted unanimously to develop a horse program at camp for the entire summer," said Donna Fox, UK extension specialist for 4-H camps. "We partnered with Murray State last summer for a two-week pilot project and it was very successful. We knew then that we needed to make this a fulltime program."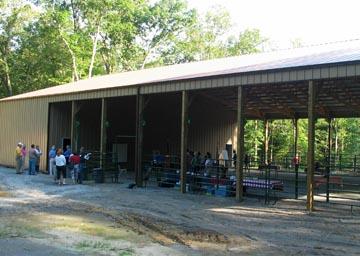 Fox said she thinks the facilities have far exceeded most people's vision for the horse program. And this is just the beginning.

"There's already discussions on how we can take this further and expand on these facilities to offer new and better programming," she said. "Our partnership with Murray State has been wonderful." 

Julie Harrison, the camp equine instructor and Murray State University student, said this was her first time at 4-H camp and she's enjoying it. There are six horses at the camp, five belong to Murray State University and the other is Harrison's.

"So much work and sweat has gone into this facility to get it ready and the campers are so excited to have it here," she said. "It will be used well into the future, and the kids will be excited every time they come out here. It can only get better."

Paula Jerrell, Ballard County 4-H youth development agent, has worked on the project since it was only a seed of an idea.

"Horses are going to be a big draw for camp," she said. "It was a natural thing for us to pursue. When you get people who are passionate about camp and passionate about horses working on a project, great things can happen. Of course all of us are involved to give the kids new opportunities and to promote the 4-H program as a whole."

In addition to being used for summer camp, the long term vision for the facilities are to have family trail rides at the camp and for county horse clubs to use them for workouts, she said. 

Jerrell and her family have had a lifetime love affair with horses, and sharing that with young people is something she enjoys doing.

"I grew up in the 4-H horse program and now work with the 4-H horse program, and my son rides as well," she said. "This is a wonderful opportunity to bring horses to camp and share it with other kids who don't have the opportunity to have a horse in their backyard and ride whenever they want to. It teaches responsibility and appreciation of horses as recreation and exercise. There's also the fact that horses are one of our premiere industries in the state so it's important that we let people know about that."

The West Kentucky 4-H Camp held a ribbon cutting recently to thank the many people who worked to bring the idea to fruition. Among those attending was U.S. Rep. Ed Whitfield.
Contact:
Donna Fox, 859-257-5961, Paula Jerrell, 270-665-9118