It's 2 o'clock on a Friday afternoon in Lexington. At a time when local stages are usually dark, a small company of actors and backstage crew from Pike County are showing people "The Way Home" at Kentucky Theatre Association's annual conference.

Constance Alexander's new script, which addresses the emotional and financial toll cancer can take on its victims, was originally produced and performed by the Artists Collaborative Theatre in Pikeville in October. ACT is an umbrella program of Pike Arts Inc. of the University of Kentucky Cooperative Extension Service. "The Way Home," performed as a staged reading, is the five-year-old company's first entry into a KTA competition, itself the first step toward the national competition of the American Association of Community Theatre.

With limited resources, taking a show on the road – especially entering it into a statewide competition – can be daunting, Stephanie Richards said. Richards, the play's director and fine arts agent for the UK Cooperative Extension Service in Pike County, was referring to the tremendous amount of work required from everyone involved. But in her eyes, the material and the company were too strong to let the opportunity pass by.

"It was too good of a show with too good of a message and too good of an ensemble to not take that step," she said.

Seated on a dark stage, isolated in three spotlights while images and statistics played across a screen behind them, Shirley Bee, Vanessa Hall and Mary B. Anderson spun a story of hope and perseverance for an audience that included three KTA adjudicators. According to the festival's program, the judges evaluated the production using criteria that included character interpretation, pacing, appropriateness of the material for the company, and overall impact. At the conclusion of the performance, company members were treated to a live critique from each of the judges. The actors agreed that can sometimes be difficult to sit through.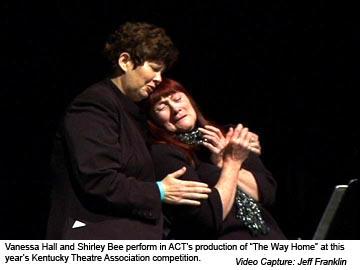 "I just thought my throat was going to open up and my stomach was just going to go," Bee said. "But then after they (the judges) got started, it was OK. This was the first patch of the first competition that we've been in. So I'm much better than I thought."

Hall smiled when she thought back on the critique session. 

"You know, constructive criticism, we all say we really want it, but sometimes it can be tough to take and that's a lesson in itself. So we're glad to learn it. We wish it didn't have to be so constructive, but…," she said, her voice trailing off into a hearty laugh.

To Richards, however, the experience isn't about the competition.

"I really work hard to not let the competition be the driving force," she said. "It's more for an experience and sharing the message, advancing the skill level, exposing them to different types of theatre. Keeping us in Pike County only gets us as good as what I can give us. Getting them (the company) down here (to KTA), well, they get to see six more shows tomorrow. So it's the experience more than the competition aspect."

Overall, the experience has been a good one for these three actresses, both here in Lexington and back at home in Pike County. 

"It began to build a real community of cancer survivors, I think this play did," Hall said. "I think it's important to give women voices."

At 87, Anderson was acting in her third ACT production. She was able to bring a little extra to her role of Pat. Anderson was 46 years old when she was diagnosed with breast cancer. The experience, she said, brought her closer to what her character was experiencing. All three actresses have learned from Richards to use their experiences to develop rich onstage characters.

"We take our experiences, our real life experiences, and use them to create something else," Hall explained. "It just builds the entire community. I'm just really grateful for that."

At the close of this year's festival, the company came home with two awards in the community theatre category. Anderson was named best supporting actress and Bryan Ratliff won for best multimedia.
Contact:
Stephanie Richards, 606-432-2534