It may sound a bit ironic for a program called Water Pioneers to take place during drought conditions in Kentucky. But if it rained like it did on the second day of this year's program, organizers said they would take those chances every time. 

The week-long program was held at the Kentucky Leadership Center near Lake Cumberland. The idea for Water Pioneers trickled down from the Kentucky Forestry Leadership Program, where high school students gathered to study about the forest and learn about managing natural resources. The key word is leadership, and that's what is at the core of the University of Kentucky's Robinson Scholars Program. 

Robinson Scholars are high school students – one student from each of 29 eastern Kentucky counties with historically low rates of college attendance. All students will be sophomores in the fall and will receive scholarships following high school graduation. The students were selected for the program as eighth graders and are first-generation, college-bound students who have demonstrated the potential to succeed but who might encounter economic, cultural or institutional impediments to completing a four-year college degree. 

The region where the students come from has always been plagued with water issues. Water Pioneers was created so the students could learn more about the importance of water and the process of how clean water gets to their homes.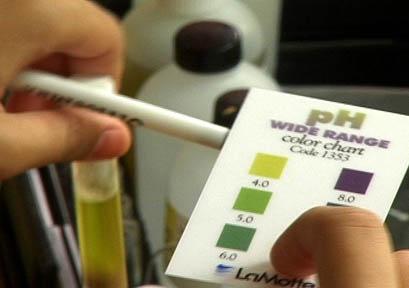 "Everybody needs water, and everybody depends on it on a daily basis, and so we put together this program so the students could have a focus," said Doug McLaren, UK extension forestry specialist, who helped facilitate the program. "We mixed in a lot of other natural resource issues."

McLaren said at the end of the week the students would design a plan about tackling water issues for their county to share with leaders and their peers.

UK President Lee T. Todd Jr. designated Water Pioneers as a Commonwealth Collaborative - a vision for turning UK's research resources toward addressing and solving problems holding back the state's economic and cultural progress. 

Leaders of the Robinson Scholars Program approached the Kentucky Water Resources Research Institute, located at UK, about creating the Water Pioneers Program. Stephanie Jenkins, program director for the Institute, turned to the UK Cooperative Extension Service to help facilitate the program. 

"It was the perfect fit," she said. "They didn't have any science, water or environmental-type programs. So we were able to fill that niche for them – maybe some science-related careers and also give them some stewardship skills and abilities for the students." 

Students said one of the program's highlights was taking a net and skimming the surface of a spring fed pond as the rain lightly fell on the water. No one seemed to mind the much-needed rain, but instead focused on what they might find in the net. Blake Newton assisted the students with the project. Newton, UK extension specialist for 4-H and youth entomology, said he finds it hard to contain his excitement over what the net may yield. 

"You can't help it when you are an entomologist, or any kind of biologist, when you see an animal, you get excited," Newton said. "When I pull those creatures out of the water in a net, I never quite know what we are going to get, and the students definitely don't know what we are going to get. It's always very exciting for me and the students get excited as well."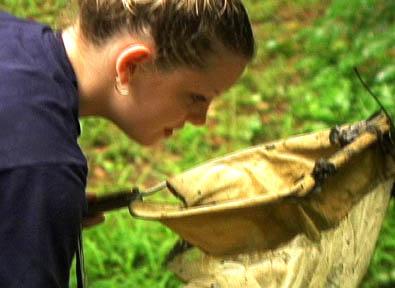 Amy Evans' face lit up when she looked into the net to discover what she caught. The Robinson Scholar from Whitley County said she was looking forward to the rest of the week at Water Pioneers and what it might hold. 

"It's a great experience and really interesting and we have learned a lot of things," she said. "Maybe I will want a career in this some day."

Another Robinson Scholar, Lee County's Megan Roach, said she was approaching Water Pioneers without any preconceived ideas.

"It helps you keep an open mind, because you are going to have to keep an open mind through college," she explained. "It helps you look at things in a different perspective." 

One of the reasons for being at Water Pioneers is learning about how to prevent water pollution and Roach said she thinks that can happen. 

"There's a lot of pollution and it can be prevented very easily, if you just take the time to stop and think about it," Roach added. 

McLaren said ultimately, the goal of Water Pioneers is to challenge the students to think.
Contact:
Doug McLaren 859-257-2703, Stephanie Jenkins 859-257-1299, Blake Newton 859-257-7453