The recent cold snap caused extensive damage to the state's fruit, winter wheat and alfalfa crops, and nipped others as well.

Fruit crops in Kentucky, and from Michigan to Georgia, have been severely damaged by the arctic cold front leaving little potential for this year's crop, said Joe Masabni, fruit and vegetable specialist with the University of Kentucky College of Agriculture.

"Unfortunately, 70 percent to 90 percent of the apple, peach, plum, nectarine, blueberry, and grape crops are lost," he said. "Grapes will send secondary buds. If all secondary buds have survived, then I think we might have about a 50 percent grape crop."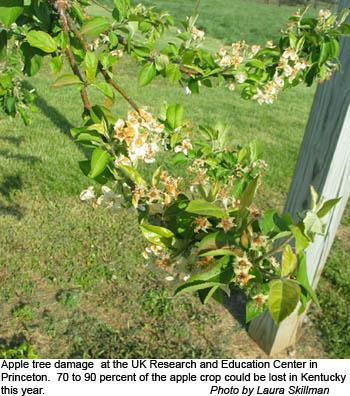 In the next week or so, when temperatures warm up, accelerated wilting and drying of dead tissue will become evident. The full extent of the freeze damage will then be known. How much the grapes will rebound depends on location and cultivar, Masabni said. Fruit trees will not be killed, and will continue growing, even if all the fruits are gone. Fruit growers can reduce their pesticide spray program since trees will not bear a crop to protect.

Strawberry plants will lose their blooms as well, but the plants will produce new blooms, providing for some production. Other small fruits such as blackberries and raspberries will regrow and fruit with reduced yields. 

On April 9, UK specialists Jim Herbek and Lloyd Murdock visited several wheat fields to determine the scope of the freeze damage and came away with little optimism. They estimate the crop has seen a reduction in yield potential of at least 50 percent and expect many heavily damaged crops to be destroyed.

It can be difficult to get a definitive assessment of plant damage immediately after a freeze has occurred. Waiting five to seven days after warmer temperatures have returned and allowing growth to resume allows for a more definitive, visible damage assessment. However, Herbek said in their inspections they saw obvious damage to wheat that had reached the jointing stage. The stems were very flaccid, soft and water soaked and the wheat heads also seemed damaged.

Farmers still have options in what to plant should they decide to destroy their wheat. Corn and soybeans are both options. Corn could utilize some of the nitrogen already applied to the wheat. However, corn seed may be difficult to obtain.

"If they want to plant corn, they have until April 30 in the western part of the state to still get optimum yield," Herbek said. "For soybeans, they've got essentially seven weeks to make that decision. In those cases, they can wait a little longer to see what's going to happen. I think they can do either one. There's just going to be a lot of residue that they are going to have to watch and make sure they are getting a good cut through the residue for proper seed placement."

Kentucky's alfalfa crop also has been damaged by the freeze, said Ray Smith, UK forage specialist. Smith and Garry Lacefield, also a UK forage specialist, have been evaluating fields across the state for damage.

"Existing fields have been heavily damaged with the terminal bud killed, so the top growth is not going to keep growing," he said. "The crown buds do not appear to be damaged so mature stands should see slow regrowth."

To help with regrowth, farmers should try to remove damaged growth by harvesting it as round bale silage, cutting it for hay or grazing it, Smith said. These options allow farmers to get some use of the damaged growth. However, farmers need to take some precautions. They need to use silage inoculums because cold weather will reduce the availability of existing inoculums. Also, getting hay to cure may be difficult. In grazing, farmers need to be careful and take precautions against bloating if the growth is still lush, or wait for it to dry before grazing. A fourth option is simply to mow the fields once the damaged growth has dried so it can be chopped and evenly dispersed in the field to avoid heavy residue.

It is still too early to determine the damage to spring plantings of alfalfa, but Smith said they should know more by the end of the week. So far, they have seen everything from minimal damage to total loss.

For tobacco, plants with four leaves or more can tolerate temperatures down to 50 degrees without suffering extensive damage, said UK tobacco specialist Andy Bailey. Smaller plants need temperatures of at least 60 degrees.

Burley is more cold-sensitive than dark tobacco, he said. In determining damage, growers need to look at the terminal bud in the plant to see if it is a pale yellow or dark brown, indicating damage. If there is damage, it may be best to discard these plants and start over again. It generally takes eight weeks to have a good transplant ready for the field so producers can start over and still have plants ready to transplant by late May, he said.
Contact:
Joe Masabni, 270-365-7541, ext. 247, Jim Herbek, 270-365-7541, ext. 205, Ray Smith, 859-257-3358, Andy Bailey, 270-365-7541, ext. 240