4-H and FFA youths from across the state joined forces to learn leadership skills from University of Kentucky College of Agriculture students during the UK LEADership Conference.

"Most of the youth are in grades 10 to 12, and this is their first experience with leadership training," said Jason Headrick, UK director for student relations for agriculture. "The goal is to get them on campus and show what College of Agriculture students are doing."

The conference was formerly the FFA LEAD Conference, but 4-H'ers were invited to participate this year. Headrick said as far as he knows, this was the first leadership conference in the college, and possibly the nation, to ever join the two organizations. He eventually hopes to invite students in Family, Career and Community Leaders of America (FCCLA) to participate.

"4-H and FFA have the same general goals," said Jennifer Hubbard, UK Cooperative Extension 4-H youth development agent in Fayette County. She said the conference was a good networking opportunity for youths in both organizations.

Bryan Hains, UK assistant professor of agriculture education, was the conference's guest speaker. He discussed the many career and leadership opportunities available through the College of Agriculture and encouraged those who do not have a traditional farming background to explore the agriculture field. Growing up in an urban area near Denver, Colo., Hains did not have a traditional farming background. He developed his passion for agriculture when he joined FFA after his family moved to rural, eastern Colorado. 

"Students need to be serious about their education and know they're going to leave UK receiving one of the highest qualities of education that they can achieve," Hains said. "And they have a support network that won't allow them to fail by themselves—that includes faculty and staff."

Youth attended workshops that focused on leadership, college planning, goal setting and effective community service. Most of the workshops were led by College of Agriculture students.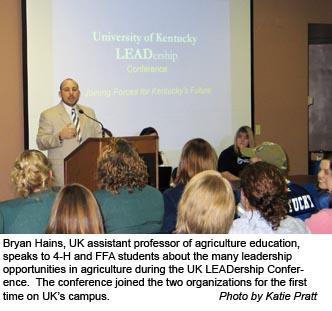 "I hope they take something from the workshops back to their counties or their homes and teach other people what they've learned here," said Kelli Long, sophomore coordinator for the conference and Collegiate 4-H member. 

Long, an agricultural communications major from Monroe County, said she learned many leadership skills in 4-H since she began participating while in middle school. 

"Being in 4-H definitely helped me to learn how to speak to large groups of people," she said. 

Emily London, a sophomore public service and leadership major from Barren County, said she hoped conference participants learn something from the conference. A former state FFA officer, this was London's second year for attending the conference. She was one of three students that gave a workshop on how to conduct a meeting using parliamentary procedure.

"It's about premier leadership and personal growth, and it taught me those two keys things," London said of her FFA experience during high school.