The state 4-H skillathon and gold livestock judging teams competed against teams from across the country at the North American International Livestock Exposition in Louisville recently and showed them what Kentucky 4-H'ers could do. 

The Christian County 4-H skillathon team took home the 2007 National Championship. This is the third time in the 8-year history of the national skillathon contest that a Kentucky team has been named national champion. Toni Riley, University of Kentucky Cooperative Extension 4-H youth development agent in Christian County, coached the team that included her daughters, UK sophomore Elizabeth Riley and Christian County High School senior Catherine Riley and Cory Wallace, a Christian County High School junior.

4-H skillathon competitions cover the whole gamut of livestock production expertise involving beef cattle, sheep, swine and goats: breed identification, identification of retail meat cuts, feeds, equipment, judging meats and hay, calculations for average daily gain, feed efficiency and profit margin, among other areas of knowledge. The competition includes both individual and team events, which are all added together to arrive at the overall team score.

"What they're really doing at the nationals is trying to take all that information and put it in a practical package for these young people," Toni Riley said. 

Riley and her team worked closely with Clark County, who represented the state in the 2006 national competition. She said it was especially important to them that they be "mentally prepared" for the team events, because the state competition does not include them.

"I was really hesitant about what we were going to do because we'd never seen it, never done it," she said. "But once we talked through it, well the kids just did great and that's really what helped them win the contest. They did really well in the team activity."

Riley said the team did well in one team event in particular, receiving 115 out of 125 points in the meat judging competition, and "we need to thank Gregg Rentfrow in the meat department because he worked with us a lot."

In the quality assurance event, another team activity, the threesome had to remove a lamb from a pen, determine the ear tag identification number, recognize the scrapie tag, weigh the animal, convert the weight to kilograms, calculate the average daily gain, measure and administer a drench dosage and trim its hooves. The team received 99 out of a possible 100 points.

The Christian County team members have been involved in 4-H skillathons since they were 9 years old. Their experience and hard work carried them to national prominence in the field. Catherine Riley won first place individual in identification. She was tenth overall. Her sister Elizabeth was second overall. The team, as a whole, was consistent. Toni Riley thinks their consistency was crucial to their triumph over the other 13 teams in the competition.

"Elizabeth was sixth in every single category. Then we got a couple of team calls in the team awards, but again we were really consistent. We were third in one, fourth in one and sixth in one," she said. 

And when all was said and done, the team of Riley, Riley and Wallace was first in the nation.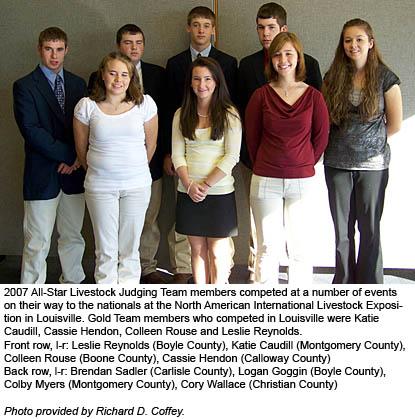 The next day, the 4-H state livestock judging team, known as the Gold Team, faced off against 33 states and 132 competitors in the National 4-H Livestock Judging Contest. This year's Gold Team was made up of Katie Caudill of Montgomery County, Cassie Hendon, Calloway County, Colleen Rouse, Boone County and Leslie Reynolds from Boyle County. Members of the eight-member state livestock judging team are selected from the top 20 contenders at the state 4-H livestock judging contests in June. They spend the summer in training with UK coaches Richard Coffey, extension swine specialist, and Jason P'Pool, extension associate for youth livestock programs. 

In livestock judging, individual team members rank four animals in a class, based on the animal's conformation. They are then required to give oral explanations of their decisions. Classes include beef cattle, sheep and swine.

After the state fair in August, the eight 4-H'ers who make the team traveled to the World Beef Expo in Milwaukee, Wi., the Eastern National Livestock Show in Timonium, Md. and the Keystone International Livestock Exposition in Harrisburg, Pa. In Maryland, Katie Caudill took High Individual in beef cattle and the two four-man teams finished third and fifth overall and finished in fifth place overall in Milwaukee. At the Keystone, a team made of Katie Caudill, Logan Goggin, Cassie Hendon and Colby Myers took first place overall, and Cassie Hendon won High Individual overall. Four members of the eight-member state team went on to compete in nationals at the North American in Louisville, where Katie Caudill finished eighteenth overall and was one of twenty All American Award winners. Cassie Hendon, who finished 27th High Individual overall, was only 4 points out of 800 away from finishing in the Top 20.

But it's not necessarily about rankings alone. According to Riley and P'Pool, the lessons young people learn from competitions like these go far beyond the show ring or livestock facility.

"It teaches them to make decisions, and it teaches them to defend those decisions," Riley said. "And they have to work together as a team."

"The 4-H youth livestock program makes great young livestock people, but more importantly, it makes great young people," P'Pool said. "If they never own an animal or have any livestock the rest of their lives, the connections they've made, the skills they've learned in communications and teamwork and sacrifice will go with them their whole lives."