Jack Hanes was 50 years old when he took his first horse ride. Some three years later, he started Long C Trails.
 Hanes, a retired Tennessee school principal, returned to the Allen County farm that has been in his family for about 200 years and needed a way to make it pay. So he explored options, and after discussions with friends found the riding trail business was the direction to go.
Trail rides, produce stands, hunting lodges, bed and breakfasts and corn mazes are all part of the growing agritourism industry in Kentucky.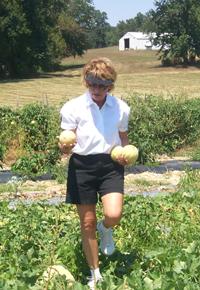 "Agritourism is not a traditional agriculture entity as we've thought about agriculture, but I think it is a part of the mix in the new diversification we are talking about in Kentucky," said Chris Clark, Hart County agriculture and natural resources agent for the University of Kentucky Cooperative Extension Service. "It can provide a lot of niches and a lot of opportunity and is something we need to be looking at in a serious way."
Agritourism fits well into the overall role of Cooperative Extension, Clark said.
"I think it fits our traditional role of providing information, generating ideas and trying to get people to explore new opportunities," he said. "Then, of course, helping with questions that come from those. "
With borrowed money and an agricultural diversification grant, two barns on the Hanes farm have been converted into stalls for horses and mules. A bathhouse and recreational vehicle parking area also have been added, along with trails that meander across Hanes' farm and those of several neighbors totaling more than 2,000 acres. There's even a cowboy church above the stalls for Sunday services. Hanes will be sharing his knowledge and learning more about agritourism June 17 at the Mammoth Cave area Opportunities in Agritourism conference at the Cave City Convention Center.
"We were already started in this before I ever heard the term agritourism, but that is exactly what we are doing," he said. "In about 1998 was when I started realizing we needed to do something in order to maintain the family farm. It's been in the farm over 200 years and it's a hillside farm. All my ancestors have worked the farm and something else. We think we've found a way for people to come and share some of their dollars with us, and at the same time leave here in better shape than they were when they came to visit."
To aid those already in the industry or those interested in the industry, two agritourism conferences are planned. The June 17 event begins at 9 a.m. and is sponsored by the Mammoth Cave area agents of the University of Kentucky Cooperative Extension Service, which includes 10 counties, Farm to Table Connection and West Kentucky Corporation. A $10 registration fee payable to the Farm to Table Connection is due June 5 and should be mailed to
Jeff Watt at the Simpson County Extension Office, P.O. Box 446, Franklin, KY 42135.
On the following day, Extension agents from the 17 counties in the Pennyrile and Purchase areas of western Kentucky will host a similar program at the Christian County Extension office in Hopkinsville. The program begins at 9 a.m. and there is a registration fee of $10 payable to the Purchase Area Leadership Fund and should be mailed to the attention of Marsha Parker at the Christian County Cooperative Extension Service, 2850 Pembroke Road, Hopkinsville, KY 42240. The deadline to register is June 4.
Participants will learn about opportunities in agritourism from those already in the business. Information on legal issues, creating a business plan and evaluating resources also will be addressed during both conferences.
Agritourism can really be of two venues – entertainment or recreational, said Janet Johnson, Allen County Extension agent for family and consumer sciences.
"Either way, it is a way to use the farm, the land and the attributes of the rural atmosphere to attract the outside visitor to provide income for the farm," she said.
Anyone considering an agritourism business should look at the particular attributes of their farm, look at the landscapes and natural beauty of the farm to see how that could be used to attract outside visitors, she said.
"It's one way of adding value to locally grown products," said Darrell Simpson, Muhlenberg County Extension agent for agriculture and chair of the west Kentucky conference. "It also allows people to have a place to go and still experience agriculture."
Simpson said agritourism is important to local economies and to farmers as they look to diversify their operations so they can continue to farm.
Another example of a successful agritourism enterprise is Lovell Gardens. What began as commercial tomato production for Don and Donna Lovell of Muhlenberg County has diversified into a variety of fresh produce along with a retail store selling their fresh produce jams and jellies and other products and a restaurant. The Lovells have visitors at the store, restaurant and farm where they often host school groups and hold hayrides in the fall.     
Donna Lovell said a lot of people want to go visit the fields where they produce the fresh vegetables using a drip irrigation system. Many older visitors like to reminisce about their own farming experiences and the younger generation is somewhat interested and amazed or think it is too much work.
"It is something we love to do," she said. "It is very gratifying."
The Lovells plan to attend the upcoming agritourism conference in Hopkinsville and she encourages anyone thinking of getting into an agritourism business to go.
"They need to go to everything they can go to," she said. "The more you go the more you learn. You don't copy what others are doing but it helps you make up your mind or find a better way of doing something. We learn something every time we go somewhere."
For more information on the agritourism conferences contact a local county Extension office.
Contact:
Darrell Simpson, 270-338-3124, Janet Johnson, 270-237-3146, Chris Clark, 270-524-2451