The University of Kentucky Animal Research Center rolled out the welcome mat for friends, neighbors and others during its first-ever field day. More than 400 people were on hand to satisfy their curiosity about one of the top animal research facilities in the nation. 

"This is very exciting," said Bob Harmon, chair of the department of animal and food sciences at the UK College of Agriculture. "We want to be able to share with the people of the commonwealth the research capabilities and the type of research that we're doing on a state-of-the-art animal and plant sciences research facility."

The center, which is dedicated to both livestock and forage-based research, opened its first building amid much anticipation nearly seven years ago. But because considerable work remained to be done to get the center up to full research capacity, Harmon said the field day tradition had to be put off for a few years. 

"We've given tours throughout the years, but this is the first time we've really developed a full Animal Research Center field day," Harmon said. "Even some of the farmers in this county (Woodford) said, 'You know, we've never been there, we've never had that opportunity.' We said come on, now's the time to do that."

And come they did. Neighbors, producers, Extension agents, 4-H'ers and others were on hand for an afternoon of tours, demonstrations, food and fun.

"Although we always welcome visitors, the field day gives us a chance to have all of our research featured in the same day, and the researchers have a chance to display and answer questions about the work," said Nancy Cox, the College of Agriculture's associate dean for research.

Visitors toured the center's 450-acre Animal Science Beef Unit, where beef cattle production and management research is conducted. Included was the Intensive Research Facility, which contains a surgery suite, 48 pens for feeding experiments and 32 pastures for grazing nutrition experiments.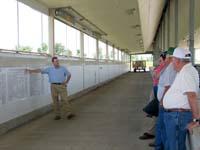 Field day participants also had the opportunity to take a virtual tour of the Swine Research Unit, a biosecure area where swine nutrition research is ongoing. They saw firsthand a demonstration of how nutrient byproducts are injected into the ground in crop production areas – an environmentally sound way of returning nutrients to the land, Harmon noted. A composting demonstration also highlighted the center's efforts toward environmental stewardship.

Tours of the beef and sheep grazing areas were offered, and participants learned about such topics as "Reducing Heat Stress of Yearling Cattle Grazed on Tall Fescue," "Companion Grazing" and new options in pasture weed control. Staff members were available to talk about electronic identification and continuous health monitoring, as well.

"In addition to some of the specific examples with cattle research, some forage research is very exciting. We're trying to learn the best ways to live with fescue in this state because fescue is so widely used," Harmon said.

While guests had the opportunity to learn plenty about the center's widely hailed research, they were also able to see how that research is applied.

"It doesn't do us any good to do research if we can't apply the results of that out in the field," Harmon said. "This is an opportunity not just to showcase the facilities that we have, the capabilities that we have, but to help people understand more about what research is about and how the results can be applied either now or sometime in the future on actual farms."

Oran C. Little, who served as dean of the UK College of Agriculture when the facility first opened, said the original goal was to look at problems that might be facing the animal industry 10, 20 and 30 years in the future.

"Handling waste, the environment, recycling, animal disease control, animal identification – these were all on the drawing board at that time. I think they'll become increasingly important in the future," said Little, who attended the inaugural field day.

Mike Peters, farm superintendent, welcomed the opportunity to show guests the work that is being done to benefit the state's animal industry.

"This facility is second to none," Peters said. "I often talk to groups and tell them, 'Come out, see what we're doing, talk to our researchers. If we're not doing things that you want them to do, tell them'," Peters said.

In addition to tours, demonstrations and talking one-on-one with the scientists, field day visitors were also greeted by representatives of Kentucky Department of Agriculture, Governor's Office of Agricultural Policy and Kentucky Farm Bureau. Key commodity groups, including Kentucky Pork Producers, Kentucky Cattlemen's Association, Kentucky Goat Producers and Kentucky Wool and Sheep Producers, were available in the exhibit area.

"Our visitors enjoyed learning about their programs, too," Cox said.
---