Every day could be Arbor Day at The Arboretum, where some 100 acres of trees are routinely celebrated. But once again a special day has been set aside to call attention to the importance of planting and conserving trees.
The Arbor Day 2006 festivities will be April 29 from 10 a.m. to 2 p.m. at The Arboretum, the state botanical garden operated jointly by the University of Kentucky College of Agriculture and the Lexington-Fayette Urban County Government. The day will be jam-packed with events for all ages.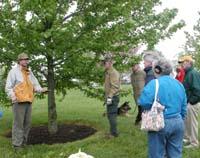 "We want people to have fun and enjoy themselves," said director Marcia Farris, who is overseeing the Arbor Day celebration, one of The Arboretum's most popular events.
Equally as important, Farris said, is the educational information that will be offered. "We want people to have access to information about selecting trees appropriate to the planting site and how to plant and maintain them correctly," she said.
A special emphasis will be on tree pruning, with local master arborist Dave Leonard demonstrating proper pruning techniques.
"Many of the College of Agriculture professors and other experts will be on hand to answer your gardening questions," Farris said.
While trees will be the primary focus, they will not be the only one. Many facets of gardening will be highlighted, as will a variety of outdoor activities. More than 50 exhibits will be scattered throughout The Arboretum, featuring information on such topics as rose gardening, building a stone wall, outdoor cooking, diagnosing plant diseases, raising herbs, feeding birds and joining a garden club.
A variety of children's activities are also planned, including a "Wood Magic" presentation by Terry Conners of the UK forestry department, face painting, and a visit by Smokey Bear and Woodsie Owl. The Kentucky Department of Agriculture's Mobile Science Activity Center will also be available.
The Arbor Day event is free, thanks to sponsors such as the Kentucky Division of Forestry, Big Beaver Tree Service, Community Tree Care, Kentucky-American Water Co. and Kentucky Utilities. Free tree seedlings will be given away and T-shirts and refreshments will be available for purchase.
The Arboretum, created in 1991, is located on Alumni Drive near the UK campus. It was named the "Official State Botanical Garden for the Commonwealth of Kentucky" in 2000. 
For more information about The Arboretum or Arbor Day 2006, call (859) 257-6955.
Contact:
Marcia Farris (859) 257-6955