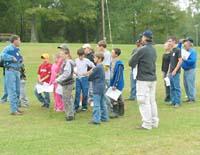 Kentucky is among the top 10 states in all-terrain vehicle-related deaths, according to a recent Consumer Product Safety Commission report. But Muhlenberg County 4-H is hoping to stem the tide.

A committee of youth and adults in the county received a $7,000 national 4-H grant to provide an ATV safety program for fourth- through seventh-grade 4-Hers. They also hope to interest other 4-H programs across the state in pursuing the grant and teaching young people how to safely ride these vehicles.

"We have a lot of kids in our community that have been hurt, and we have also lost a bunch of kids in the last few years," said Linda Travis, who along with her husband Roger volunteered to partner with the youth and traveled to Washington, D.C., to undergo the necessary training. "We thought if we worked with this and get them interested in it and if we can just save one life it will be worth it all."

Roger Travis said they became interested to help their grandchildren but wanted to help the entire county and state as well.

"We also want to tell other county agents how we got the grant, and maybe they will want to work with us to help get the death rate down in the state of Kentucky," he said.

The 2004 CPSC annual report on ATV-related deaths and injuries, released in September, ranks Kentucky tops in deaths from 2002 through 2004 with 106 deaths. The report notes that data for these years is incomplete. However, more complete data from 1982 through 2001 ranks Kentucky at ninth with 182 ATV-related deaths.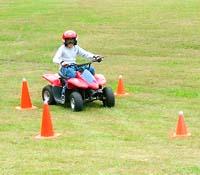 Tommy Harrison, Muhlenberg County Extension agent for 4-H youth development, said two youths in Muhlenberg County have died in recent years in ATV accidents.

"There's a tremendous number of youth riding four-wheelers in Muhlenberg County," he said. "National 4-H has developed an ATV Adventures curriculum, and we are piloting that curriculum. We definitely had a need for the program, plus youth-adult partnering was a major part of the grant and we do a lot of that."

4-H teens Zeke Walters and Mackenzie Whitaker are two of the youth who helped teach the ATV safety program at the two-day camp.

"I'm active in 4-H, and Tommy (Harrison) told us about the project and that it was a group effort and teens were needed to get involved with it, and I wanted to help out my community," Whitaker said.

Walters is also involved in the teen club, plus he rides ATVs, so the ATV camp and safety program appealed to him.

"I know people that have gotten hurt, and I want to help the younger ones not to do the stupid stuff on the four-wheelers. So I thought this might help them out," he said. "I think it is better to start them now than wait until our age because I've ridden since I was young and it is going to be hard to change my habits." 

The Kentucky Department of Agriculture's Farm and Home Safety Program conducted the driving course for the camp. The agency has previously conducted hands-on driver training at to other locations, but participants there were ages 16 and older, said Dale Dobson, KDA farm safety administrator.

Dobson said this agency has been working for the past two years to develop an ATV safety riding program for the state of Kentucky through 4-H and FFA. The Muhlenberg County camp was a chance to work with younger children.

"Coming here today gives us a chance to work with some good young people who have spent the past day doing nothing but learning ATV safety, and that is evident today with them riding the course and seeing their skills," he said. "This is the first time we've done a hands-on ride with a group this young and I'm amazed at what they are doing. They are really following directions and taking orders and doing a good job."

The camp, held at the West Kentucky 4-H Camp, included five hours of mostly experiential, hands-on classes followed by the driving course. The camp was open to any 4-H member who owns an ATV, Harrison said. Age-appropriate ATVs were provided for the driving segment; youth were not allowed to bring their own. A post-test was given at the end of camp and a follow-up test will be given in six months. 

"We will hopefully see more of the youth using the correct equipment, the safety gear and riding on the right size machine, not carrying passengers or riding on the roadway, and handling the machines appropriately," he said.
Contact:
Writer: Laura Skillman 270-365-7541 ext. 278
Contact: Tommy Harrison, 270-338-3124