Kentucky Department of Agriculture and 4-H, a program of the University of Kentucky Cooperative Extension Service, are working to combat the rising toll of ATV accidents in the state. Kentucky led the nation in ATV-related deaths from 2002 to 2004, according to a recent report by the Consumer Product Safety Commission. Of the 106 reported deaths, one-third were people below the age of 16.
Through programs at both the grassroots and state levels, people such as Tommy Harrison, Muhlenberg County 4-H Youth Development agent, and Dale Dobson, coordinator of KDA's Farm and Home Safety Program, hope to educate ATV riders on the safety measures that can save their lives.
Funded by a grant from National 4-H, Harrison and a team of adult and teen volunteers are focusing their efforts on educating both young and old about the dangers inherent in riding all-terrain vehicles. Working in conjunction with Dobson and KDA's ATV safety course, they are spreading their message across the state.
Last year, the KDA introduced its pilot safety course in four counties.  It is petitioning the General Assembly for $126,000 per year to fund a permanent ATV safety education component to its Farm and Home Safety Program. Dobson said the program has the potential to save lives.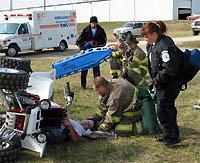 "Safety is a decision you have to make for you and your family. And you live with the results of what you decide to do," said Dobson. "I can only hope that (the General Assembly) can see that what we're asking for is just small change considering the lives that we can change and affect in Kentucky."
Dobson and his team were on hand at the Madison County Fairgrounds recently to teach Madison Southern FFA students safe ATV practices. After learning about the proper safety gear, including the importance of wearing a helmet, participants' skills were assessed as they drove through a winding course. The afternoon session wrapped up with a staged accident and rescue designed to raise awareness of ATV hazards.
Safety classes are not just for the young. Madison County's Ray Marcum said if he had been properly trained, his first ride on his new four-wheeler might have turned out differently.
Marcum, who was driving slowly but wasn't wearing safety goggles or a helmet, failed to notice the low-strung fence wire snagged on the front of his ATV. When the wire sprang loose it flipped him across the face, shattering his nose and shredding the flesh around his right eye. He had more than 70 stitches and underwent cosmetic and reconstructive surgery to repair the damage to his face.
But Marcum knows he's fortunate because his 8-year-old son was seated behind him on the vehicle.
"I really hate to think what could have happened if he'd been in front," he said. "You don't have to be going fast. You don't have to be showing off. You can be very careful riding through the field and something can happen and you can get seriously injured."
Dobson agrees. "You can have an accident at any speed. You can have an accident at any age."
Harrison and his team of volunteers will carry this message to Extension agents and 4-H volunteers on both sides of the state. On March 16 at the Feltner 4-H Camp in London and again on March 23 at the West Kentucky 4-H Camp in Dawson Springs, Harrison's team will conduct training on the basics of four-wheeler safety.
The team consists of husband and wife volunteers Roger and Linda Travis and teen volunteers Zeke Walkers, Alex Pogue, Mackenzie Whitaker, Morgann Short, Tyler Sadler and Nathan Grace. Dobson will also be on hand with KDA's safety course. Each participant will receive the National 4-H ATV Adventures curriculum.
Contact:
Tommy Harrison, (270) 338-3124, Dale Dobson, (502) 564-4696, ext. 231