Entomologists at the University of Kentucky College of Agriculture report finding some bedbug populations in the United States resistant to pyrethroid insecticides – commonly used to treat infestations of the pest.

"Resistance represents a major challenge to the management of bedbugs and may accelerate the need for alternative tactics," said Kenneth Haynes, UK Entomologist and project leader. "Pyrethroid resistance is likely a factor in the resurgence of this international problem."

The UK study found that adult bedbugs collected from four separate locations in Kentucky and Ohio are more than several thousandfold resistant to deltamethrin and lambda-cyhalothrin compared to a susceptible laboratory strain of bedbugs. This high level of resistance may compromise the efficacy of products that have pyrethroids as an active ingredient.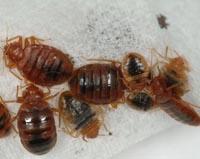 Doctoral student Alvaro Romero, along with UK scientists Haynes, Michael Potter and Daniel Potter, conducted the research study.

Using a discriminating dose test with bedbug nymphs, the researchers further found that seven out of the eight field populations submitted by pest management firms from across the country were well above a hundredfold resistant to deltamethrin. These tests included bedbugs originating from California, Florida, Kentucky, Ohio and Virginia. 

While the results suggest that resistance to pyrethroids is becoming more widespread, the investigators emphasize that it is not yet universal and many pest control firms are still reporting good control with these active ingredients. However, the findings are significant given that removal of most carbamate and organophosphate insecticides from the marketplace has left the industry with few effective alternatives, noted the UK scientists.

Micahel Potter, a UK Extension entomologist, said bedbugs are inherently difficult to control, and there are a number of reasons other than insecticide resistance why pest control professionals may have difficulty eliminating infestations. Nonetheless, resistance represents a major challenge to the pest management industry. 

Bedbug resistance to insecticides is not a new phenomenon. Resistance to DDT was first reported in the late 1940s and was so widespread a decade later that other products were already being recommended as alternatives.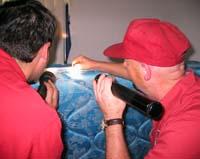 Bedbugs have made a rapid comeback in recent years, appearing in such places as hotels, apartments, single family homes and college dormitories. The bugs are not known to transmit diseases to humans. Bedbugs usually bite people at night while they are sleeping. A symptom of a bedbug problem would be if a person felt fine at bedtime but awakens with itchy, red mosquito-like welts on them, Potter said. But it is important to note that not all such symptoms are bedbugs. Confirmation requires finding and identifying the bugs, which often requires the help of a professional. Infestations also may cause anxiety, embarrassment and loss of sleep.

Details of the UK study will be reported in October at the National Pest Management Association Annual Convention in Grapevine, Texas.
Contact:
Kenneth Haynes, 859-257-1618, Michael Potter, 859-257-2398