There is an old adage that says to plant a garden is to believe in tomorrow. On the grounds of St. Catharine's College, a community garden is cultivating a brighter tomorrow for both Washington County children and the planet. 

The Community Youth Gardening Project brings elementary and high school students together to plant and tend an organic garden at the Dominican Earth Center in Springfield. Collaboration between local community groups, including University of Kentucky Cooperative Extension Service, Washington County Board of Education, Washington County Community Education, the Earth Center at the Motherhouse of the Dominicans of St. Catharine, Washington County Health Department and Washington County Industries, is helping to enrich young lives and, in the process, teach sustainable methods for a healthier planet.

"I'm hoping that they'll learn about gardening and getting out in the air, and maybe go home and plant a garden," said Dennis Morgeson, extension horticulture agent in Washington County. "We wanted them to learn some nutrition, learn about insects and bees. They learned a lesson on freezes this year: Just because you plant it, doesn't mean it's going to live. They've learned some math, because it's a square-foot garden…. But mainly just to get out and do a little exercise and learn how to garden."

On a bright Tuesday afternoon, groups of young people scattered in all directions to complete the many tasks their garden demanded of them. Some plunged their hands and arms into dark, rich compost, mixing it with great enthusiasm. Others planted broccoli, cabbage and potatoes in raised beds. Another group grabbed fistfuls of weeds and cleared a small plot of earth that sat on a rise on St. Catharine's rolling central Kentucky farmland.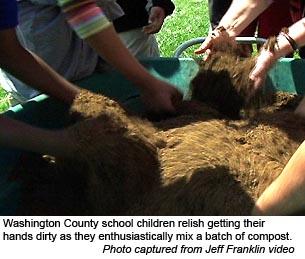 The Dominican Earth Center at St. Catharine's was created 10 years ago to be a public resource for earth education materials. It supports environmental education projects, such as the Community Youth Gardening Project, and hosts a film series. With a lending library of books and periodicals about environmental issues, as well as a certified organic garden and earth-friendly cabins, the staff at the center hopes to preserve the planet by educating its people.

"It's here because many people in our community believe that the earth is in trouble right now, and it takes all human beings to make a difference," said Sister Rose Marie Cummins, director of the center.

"Basic sustainability in general is one of our key missions we'd like to educate people on, and get people interested in as much as possible," said Daniel Barber who is the environmental education program coordinator at the center. "So a lot of our programs tend to lean towards that idea – people learning to garden, people learning more about the environment."
Beyond the obvious lessons in weeding and watering, the children are reaping the benefits of community gardening, such as teamwork, a sense of pride and accomplishment, a sense of community, interest in trying new foods and developing healthier diets, and learning sound ecological practices.

"Most of us as human beings like to be close to the land," said Jill Settles, community education director for Washington County schools. "It gives them an opportunity to get out of the four walls of the school and learn in a real life environment. I think they have really done well working together. They've handled a lot of teamwork and they seem to get along. They help one another. And I think it gives them a real life situation to learn in."

The students are enrolled in special education classes at Washington County High School and Washington County Elementary. As a group, they range greatly in age and in abilities. Some students exhibit behavioral disabilities, while others are physically or mentally disabled. In the garden, those differences and challenges melt away. Teenagers help fourth-graders. Physically disabled kids wield trowels with enthusiasm, and emotional problems dissipate in the fresh air.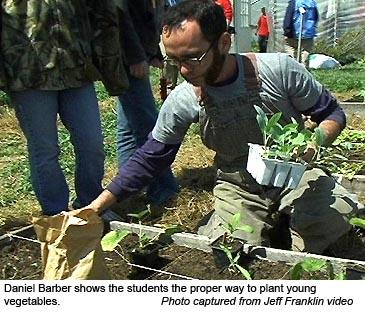 "They are so excited about what they're doing, so in tune with what we're telling them to do, that there's been no behavior problems whatsoever," Settles said. 

A health educator at the Washington County Health Department, Debra Galloway explained that one of the priorities of health departments all over the state is to fight obesity through increased physical activity and healthy eating. 

"This whole project has fit that perfectly," she said. "The kids have learned about nutrition, they've learned about different kinds of vegetables…. Also, just by coming out and working out here, they're getting more physical activity and being outdoors, which is healthy."

High school junior Johnathan Wright isn't thinking about the health benefits when he works in the garden. He likes the practical side of it.

"When the summertime comes, you can plant all your seeds and everything," he said. "And in wintertime you have your vegetables and you won't have to worry about going to the grocery store and buying a whole bunch of stuff to cook and stuff. You just have it in the garden. So that's what I like about gardening."

When school lets out for the summer, the garden will not be neglected. That's when Washington County Industries steps in. The organization is a training program for adults with mental disabilities. Dion Merriman, vocation services coordinator, said the organization's goal is to bring a little joy to their lives by helping them to become adults who are able to contribute and have a sense of self-fulfillment. The adults had a taste of what to expect this summer when they tended the garden during the students' spring break.

"The biggest thing, and a lot of them kept talking about it, is they knew they were helping these kids because the kids weren't able to be here that week," Merriman said. "I think the biggest thing was that they were out here doing something meaningful, helping somebody and I think that's what they enjoyed the most."

Whether growing or already grown, gardeners in the Community Youth Gardening Project are having a great time. Morgeson said he has seen a difference in many of the young people.

"Some of them, when it first started, they wouldn't hardly even speak to you, but now they give you a hug when they leave," he said. 

Daniel Barber has noticed it too.

"The energy the kids bring out here is just really great," he said. "We've had a lot of fun with them so far and we look forward to having fun with them in the future, too.

The health department's Debra Galloway sees a bright future for this type of project.

"We've heard that there are other teachers who are interested in doing this," she said. "Whether we can bring everybody out here, who knows. But there is also the potential to have gardens at school, which is a way to have some great hands-on learning. We hope that it is going to continue and grow."
Contact:
Dennis Morgeson, 859-336-7741