At first, some youngsters were shy when two famous children's characters, Mama and Papa Berenstain Bear, appeared in the library of Hickman County Elementary School. But that didn't last long. Soon there were hugs and high-fives all around.

The bears were making a special appearance at family night activities at the school as part of the "Be a Book Cook" program. The program was coordinated by the University of Kentucky Cooperative Extension Service in Hickman, Fulton, Ballard and Carlisle counties.

"We are using the book 'The Berenstain Bears and Too Much Junk Food' and trying to tie it into literacy and healthy eating habits along with physical activity," said Melissa Goodman, UK extension agent for family and consumer sciences in Hickman County.

The program is sponsored by the Four Rivers Early Childhood Council, which is made up of child care providers and community organizations, such as the school's family resource center. A grant from the council paid for a book sent home with each child and for renting the bear costumes. Sara Bogle, UK extension agent for family and consumer sciences in Fulton County, developed the program curriculum.

"Extension, family resource center, Head Start preschool and the adult education programs all planned tonight's event here at our school and put in resources as well," Goodman said.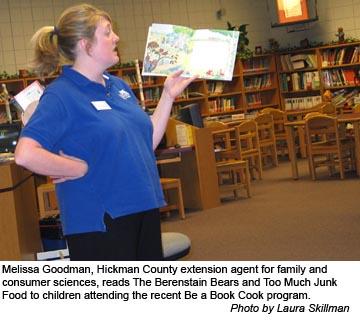 The program began in the school's library with Goodman reading the book to the children followed by a question-and-answer session. Then the two bears made their appearance and led the children – preschoolers through second grade – and their parents to the cafeteria where they participated in physical activity, made a healthy snack and colored sheets of the Berenstain Bears Brother and Sister Bear.

"We want the parents to interact with the children," she said. "That's one of the things we really try to have happen every time we have a family night is to have that hands-on interaction between the parents and children."

Vickie Batts, coordinator of the family resource center, said family night activities focus on literacy and the importance of reading to children at a young age. They also try to get the parents involved and comfortable in coming to the school with their children.

"This one tonight we are stressing not only reading but the importance of nutrition," she said. "We do the 'Be a Book Cook' usually once a year."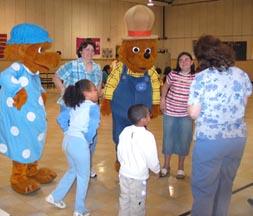 Lisa Adams and her children, Caitlin and Chase, where swinging to the music along with the two bears and enjoying the activity. She said she tries to participate in all the family night activities.

"I think it is important for the kids to have activities outside of school at school," she said. "They get to play with other kids while they are here, have activities and they also learn. I enjoy it because I have fun with my kids and I also get to see other parents and we get to talk and we know what's going on around the school."
Contact:
Melissa Goodman, 270-653-2231