It's berry time in Kentucky and that means locally grown highbush blueberries and blackberries are available across the state offering consumers a tasty and healthy treat.
Berry production is spread across the state and interest in it is growing. Blueberries are a native crop to Kentucky and are fairly easy to grow except in areas with a high soil pH. They are high in antioxidants and easy to freeze.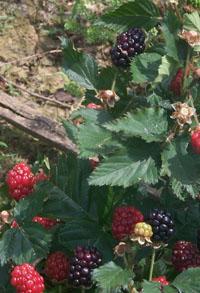 It generally takes about four years before the bushes begin producing a crop but once they do they are consistent and, if properly cared for, can provide berries for many years. The harvest is labor intensive, said John Strang, University of Kentucky Extension fruit specialist.
To grow blueberries, a person must have irrigation, access to mulch, maintain a soil pH of between 4.5 and 5.2 and have some way to protect the crop from birds, he said. They have few insect and disease problems, which means a very limited spray program. Blueberries have a better shelf life than blackberries.
In the past, there has been a reluctance to plant blueberries, Strang said, primarily because people didn't know what to do with them besides eat them fresh. But, that is changing.
Thorny blackberries grow wild in Kentucky and are something Kentuckians key in on as a small fruit in the state. Production on some types of blackberries can begin in the second year.
Most Kentucky blackberry growers have small acreage U-pick operations and they focus mostly on the thornless varieties. The newer thornless varieties are considerably sweeter than older varieties and often taste as good or better than the thorny varieties. There is a strong market for already picked berries but finding labor for the harvest can be difficult, Strang said.
The biggest advantage of locally grown berries is the full flavor they get from ripening on the canes. "They taste so much better," he said.
In Daviess County, two new producers have joined those already in production. But there is not a great deal of interest yet in small fruit production, said Annette Meyer Heisdorffer, Daviess County Extension agent for horticulture.
"I think it will add gradually as they see others being successful with it and once consumers get used to it and create a demand," she said.
Farmers markets provide a good marketing opportunity for small fruits growers, Heisdorffer said.
Several varieties of blueberries are grown by the University of Kentucky at the Research and Education Center in Princeton and at Robinson Station in Quicksand to determine what varieties are best suited to the state. Information on blueberry varieties can be obtained from the county offices of the UK Cooperative Extension Service.
Blackberries are one of the crops being studied through the College of Agriculture's New Crops Opportunity Center. Thorny, thornless semi erect and thornless erect varieties are being evaluated at 10 demonstration plots across the state. In Lexington, a study is being conducted on training systems for trellis production of semi-erect blackberries. An irrigation study is also being planned.
At Quicksand, new varieties from Arkansas are being evaluated for their disease resistance to such things as orange rust and double blossom. Fungicides for controlling these diseases are also being evaluated.
A grower can spread his harvest of blueberries and blackberries from June into August by variety selection.
Contact:
John Strang, (859) 257-5685