Blueberry muffins have long been a breakfast favorite, yet fresh blueberries haven't always been something consumers think about as a summertime treat in Kentucky. But that is changing.
Demand for blueberries has been increasing throughout this decade, and growers are stepping up to meet the demand. Production in the state has increased steadily since 1997. There is still plenty of room in the market for additional growers.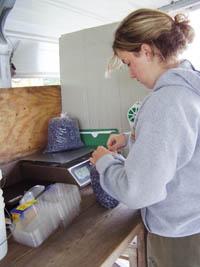 "I keep hearing of more and more blueberries going in," said Tim Woods, University of Kentucky horticulture marketing specialist. "Folks are going into it with some degree of optimism. Most are smaller plantings geared mostly for the direct market and some are also for the produce auctions. We don't really have any large-scale wholesale operations."
Blueberries, as well as blackberries, are increasing in acreage across the state as producers look to add new enterprises to their operations.
That was the case for Nancy McCormick and her family in Daviess County. When tobacco acreage was being reduced, the McCormicks were looking for something to add to their operation so she would not have to take a job off the farm.
"The demand for them is there, and research is being done to find even more health benefits from blueberries," McCormick said. "They are just so healthy for you."
Today, Blueberries of Daviess County is a three-acre operation combining "U-pick" and farmers' markets, two produce markets and a health food store. She'd like to eventually frozen berries. The 2,500 plants are mulched, irrigated and covered with netting to protect them from birds. She has 11 varieties in order to have a marketing season of about eight weeks.
Advertising through radio and newspapers is part of McCormick's marketing scheme, but word-of-mouth also plays an important role.
"Blueberries are so popular, and since I'm the only one in this area people are coming," she said. "I'm sure as I keep growing, I may have to do some more advertising. But advertising is really expensive."
McCormick said labor and netting are expensive and proper care of the blueberries is time-consuming. She said she's had a lot of help understanding blueberry production and points people with questions to UK.
Blueberries that are planted into soils with the appropriate pH (4.5 to 5.2) can thrive in this state. Calcium levels are also important to determine how easily the soil can be amended to reach the appropriate pH.  Blueberries are not a crop with a quick profit turnaround, however, because they take three to five years to establish before producing a crop.
Once established, blueberries can contribute significantly to the profitability of a farm for many years and can be one of the more profitable alternatives to traditional Kentucky crops. 

"U-pick" operations are generally the most profitable market behind retail sales. Labor to hand-pick berries is a significant expense, Woods said.
"The thing with these small fruits is that we can grow them really well and they can be grown on a fairly small amount of acreage to get a pretty high value crop, which makes it pretty attractive," Woods said.
 "Both blackberries and blueberries have just done great at farmers' markets, and I think that's why people are expanding their blueberry plantings," he said. "Blueberries are not that 
difficult to maintain. There are only a few pests you have to deal with and an occasional disease, but by and large they are pretty hardy plants more so than blackberries."
Birds and Japanese beetles are the two biggest pests for blueberry producers, said Annette Heisdorffer, Daviess County Extension agent for horticulture. Blueberries have few disease problems if established in well-drained areas.
Heisdorffer said she continues to get requests for information about blueberries. Some producers are either putting in plants or looking to put in small acreage.
When approached by prospective growers, Heisdorffer said the first thing she does is get them to check the calcium levels in the soil to see if their production site is economically feasible. Certain levels may make a location too difficult to maintain a proper pH. The next thing she encourages them to consider is marketing. 
"Once we talk about the soil and marketing, then we provide them with variety information," she said. "We give them the resources we have."
Those resources include many years of variety data from UK trials in both western and eastern Kentucky locations.
Woods and Terry Jones, UK small fruits specialist, are in the beginning stages of investigating organic blueberry production in Kentucky through a grant from UK's New Crop Opportunities Center. They are also working with UK nutritionist Sandra Bastin to develop processed products for organic blueberries that will include syrups, fruit rollups and a powdered fruit sweetener.
"Blueberries are very nutritious, and there are a lot of things that make that product attractive to people who are sensitive about nutrition," Woods said. "What we are trying to understand on the economic side is can we do these things in relatively small-scale batches that would make business sense for a small entrepreneur to take on."
Contact:
Don Hershman, 270-365-7541, ext. 215, Doug Johnson, 270-365-7541, ext. 214