When it comes to finding a single thing to best promote one northeastern Kentucky county, it's just not possible. Donna Fryman said that's because there are so many things from which to choose. So this year the promotion includes bridges, barns, scarecrows and banners.

Fryman is the University of Kentucky extension agent for Family and Consumer Sciences in Fleming County – the covered bridge capital of Kentucky. She and her colleagues thought it appropriate to feature the county's three covered bridges in a fall tourism promotion, especially the Goddard Bridge, recently restored at a cost of approximately $1 million. But they didn't stop there.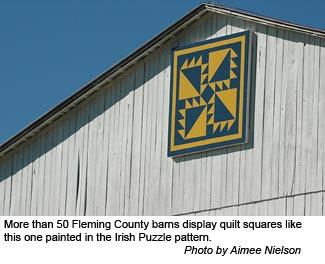 The county is home to dozens of tobacco barns that have recently jumped on the Kentucky Quilt Trails. Fryman helped construct and paint many of the more than 50 quilt squares hanging on the county's barns. 

"It's caught on big time here," Fryman said of the barn quilt efforts. "If a person sees one they say, 'Oh, I want one of those,' so they start looking for contacts to help put one on their own barn, and we have helped a lot of people get their squares up. It really adds decorative artwork, promotes our heritage and also features our many tobacco barns that are not really in useful existence anymore. So, it's saving the barns as well."

The third component of the promotion is the Great Scarecrow Roundup. It's hard to drive through Fleming County in the fall without seeing dozens of scarecrows decked out in creative attire. This is the fourth year for the "crows," which are entries in a contest where county residents and schoolchildren vote for the winner. It all started with Buckethead Bob, who has literally traveled around the country promoting Fleming County. The second year, Bob married Mophead Millie. The third year, they added twins to the mix and this year, the family has a new dog named Pailhead Princess – a name chosen by local school children.

"The county has been having a problem getting owners to register their pets," Fryman said. "So, when Pailhead Princess arrived, we got her a license and hopefully she can encourage other pet registrations in the community."

A Fleming County artisan who makes jewelry replicas of the barn quilts donated a few pieces for Mophead Millie to wear during the fall promotion.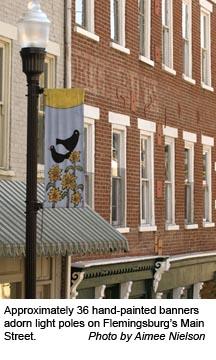 Fleming County's 4-H Youth Development Extension Agent Steve Kelly is on the Flemingsburg Main Street committee. The committee is always trying to think of ways to draw residents and tourists to the downtown area.

"Last year around this time, I was driving through Nicholasville, and I saw some banners," he said. "I thought they were nice and all the sudden, I realized they were hand painted and I thought that was just a real neat way to get people involved."
Kelly took the banner idea back to the Main Street committee and they decided to pursue it. Through a grant, they were able to purchase canvas and other supplies and then invite the community to participate. In all, participants painted 36 banners. Kelly said the city hung the banners on light poles lining both sides of Main Street. 

"We had professional artists, first time painters, senior citizens and young children painting these banners," Kelly said. "We want people to get out of their cars and walk the streets (downtown). In my opinion, everything in this fall promotion is public art – the quilt squares, the banners and the scarecrows are all things that our people have done to express their creative thinking and talent."

Kelly said he believes Fleming County has a well-hidden group of artists or people who would like to explore the arts. The fall promotions this year are giving them many opportunities to do that, he said.

"We were just trying to encompass all the activities we have going on in the county this fall," Fryman said. "We (Fleming County extension agents) are all members of our local committees like tourism and Main Street. We don't have an official tourism commission in the county. So, between the chamber office and Cooperative Extension, we do a lot of the tourism promoting. We just want to bring people to the county and show them all the things Fleming County has to offer."
Contact:
Donna Fryman or Steve Kelly, 606-845-4641