Surrounded by shopping centers, highways and general urban sprawl, a team of growers working a patch of land in Lexington are providing people with abundant fresh produce, educating students in the concepts of sustainable agriculture, and reconnecting people with their food and the people who grow it. In short, they're building a community.

The University of Kentucky College of Agriculture's Community Supported Agriculture project is in its first year at the UK Horticulture Research Farm in south Lexington. And if the enthusiasm that has greeted this initial endeavor is any indication, it is off to a great start. 

"I think it's a testament to how farming can impact people," said Mark Williams, associate professor in the UK Department of Horticulture and director of the college's new Sustainable Agriculture degree program. "I think people want to have a sense of how their food was grown. This idea of local versus global: how sustainable is it to be bringing in food from China versus supporting local farmers? So that's what community supported agriculture is."

The term CSA is beginning to show up more and more frequently when the subject of local eating comes up. For a set fee, participants can buy a half share or a full share in a farm, which entitles them to a weekly supply of fresh produce throughout the growing season. People who buy a share in a CSA are sharing the responsibility of the farm, not only benefiting from a successful growing season and the farmer's hard work, but also sharing part of the risk that's inherent in farming.

Neither the selection nor the quantity of products can be guaranteed because weather, insects and any number of other influences can affect a crop's yield. But that element of surprise not only makes receiving the weekly basket of produce exciting for consumers, it also helps them relate to the farmer in ways that a trip to the grocery store can't. As a result, Williams believes, a tight-knit community composed of the consumer and the farmer is created.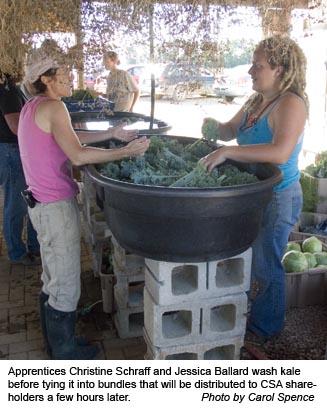 Why the UK College of Agriculture decided to venture into CSA territory has much to do with Williams' view of the role the project can play in education, extension and research.

"It's really the cornerstone, in my opinion, of our sustainable ag curriculum," he said. "And the reason for that is it gives students the full experiential farming opportunity. They can come out here and work on this section of the farm, and during a 22-week apprenticeship they can learn every aspect of our farming system, from soil preparation, tillage, starting seeds in the greenhouse, direct seeding, transplanting, maintaining the plants throughout their life, harvesting, marketing, selling it through the CSA down on campus, so (it covers) the entire spectrum of a farm."

The sustainable agriculture curriculum integrates three aspects of agriculture, what are commonly called the three pillars of sustainability: environmental, economic and social. Students within the program follow a rigorous, interdisciplinary curriculum comprised of classes from each of those pillars. Courses in both the natural and social sciences give them the expertise they'll need in areas such as soil management, integrated pest management, water quality, pathology, human nutrition and community food systems, as well as sociology, economics and philosophy. But Williams said the CSA project gives them something more: a real hands-on opportunity to apply that information.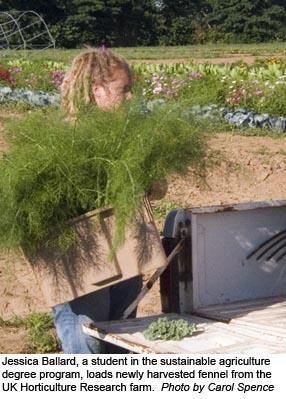 "If they take the apprenticeship before they take the science classes in the classroom, then all of a sudden they see things. And then when they're in the classroom, they say 'I've seen that. I understand now,'" he said. "Or, if they take the classes before they come out and work on the apprenticeship, they'll have the background knowledge. Either way it works."

Among the graduate students and apprentices who work on the farm, there is a palpable enthusiasm for the project and for the concepts behind a community built around food production. Delia Scott, a graduate student in crop science with an emphasis in organic and sustainable agriculture, spoke about how involving the consumer in the process helps to alleviate the isolation that many farmers feel.

"It makes me so happy to see that other people are happy with what we've grown and what we've harvested," she said. "It's just so cool to see people's faces light up."

Cheryll Frank is one of the four apprentices who work on the farm eight hours a week during this first year of the project. She and apprentices Christine Schraff and Jessica Ballard, have a strong desire to find answers to some of the problems modern society is facing – problems such as environmental issues, accountability and providing healthy alternatives in a fast-food world.

"This is a great learning experience because we're seeing first hand what you can produce with minimal inputs and what really can be brought back to the community in the form of really healthy food that doesn't take a lot of fossil fuels or off-farm inputs," she said.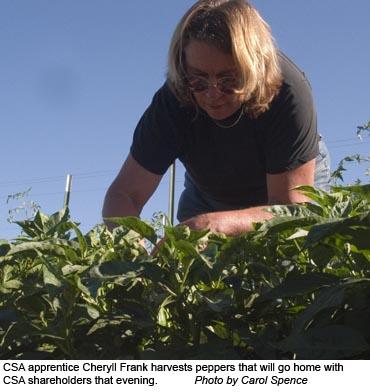 Schraff has spent much of her adult life as a nurse, so working in the field of sustainable agriculture was a natural extension to her desire to try to keep people healthy through eating nutritious foods close to home. 

"For me, I like the whole idea of the fresh approach," she said. "You get farm fresh produce. And I like the idea of trying to network the producers with the consumers."

UK's CSA is available only to UK students, faculty and staff. The program was promoted university-wide, not just in the College of Agriculture.

"We made a real decision to promote it across campus," said CSA Coordinator Mark Keating. "We wanted the rest of the university to engage with what's going on in the College of Agriculture."

The plan for the first year was to sell 20 shares. Within the first two weeks of promoting the plan on campus, all the shares had been gobbled up. Participants came equally from all population segments of the university: students, staff and faculty. 

"The most important thing to me about shareholder recruitment is that we didn't have to look very hard to find all the willing shareholders we thought we could handle," Keating said. "And shareholders really defy stereotyping. They come in all shapes and sizes, so to speak. To me, this speaks very favorably about the potential for local growers to build their CSA membership in the future."

Williams and Keating are careful not to compete with local farmers. They've even decided to put a time limit on how long shareholders can participate in the CSA.

"What we want to do is get people used to a CSA and have them go out and find one and support other farmers," Williams said. 

Williams sees the project's focus on education as benefiting not only students in the apprenticeship program, but the community at large, including shareholders who learn about the benefits of consuming locally produced food and farmers who can drop by to see a real functioning farm and ask questions.

"It's a real farm," he said. "We can show the economics, we can show the entire process now. So from an extension standpoint, this is happening. There are farmers coming in here and looking at this and saying, 'Hey, how you growing these greens?' and 'How are you controlling bugs?' and 'You know, I like the way that you've set this system up.'"

There's also a research component to the project. Williams said that because they are farming organically, they see things that are limitations to the system. Then, elsewhere on the farm, they can set up controlled research experiments to study those problems with an eye toward coming up with practical solutions. 

But with the CSA, all the research and all the work come down to one thing: handing the consumer a bounty of fresh produce every week throughout the growing season. Shareholders receive a weekly newsletter that provides them with news from the farm, biographies of the people growing the food and preparation ideas for that week's produce. Shareholders also wanted to stay in touch with each other, so Keating arranged for a CSA listserv where members can exchange recipes, tips and information about local sustainable food activities. The CSA team and shareholders will come together for a field day in August to discuss organic gardening practices and again for a harvest celebration potluck in October.

On a recent Thursday, Janine Brady was one of the many people who gathered at E.S. Good Barn on the UK campus to collect their food. She splits a share with her daughter who is a senior at UK. Both women love to cook and the availability of freshly picked vegetables has made it even more enjoyable for them. Brady said that she had never cooked much with fresh greens, but early in the season that's what she received in her share. So as each week passed, she has learned to cook new foods and prepare old standards in new ways. She also said her 10-year-old child has gotten into more vegetables and loves to cook, as well.

To Mark Williams, Brady's story is proof that farming within a community really can impact people's lives. 

"It's better than I ever could imagine. You have a vision of where you're moving towards and what you're trying to do. Then, when it actually starts to happen, it happens better than you ever anticipated. It's a nice thing," he said with pride.

The UK CSA is not a for-profit venture. All financial proceeds from the sale of CSA shares are folded back into the project to support the production of food and student educational activities at the Horticulture Research Farm. More information about the college's sustainable agriculture program can be found here.
Contact:
Mark Williams, 859-257-2638, Mark Keating, 859-257-5130