Many people would shy away from a business venture that requires them to wait seven or eight years to see a return on their investment. Kentucky Christmas tree growers, however, take the wait in stride and cultivate patience as well as tree seedlings when
starting out in the industry.

Retired University of Kentucky College of Agriculture professor Bill Moody and his wife Fredda started planting Christmas trees in 1986, around the time the Kentucky Christmas Tree Association formed.

"We had a little extra land here and we were mowing it all the time anyway, so we thought well we might plant something that would at least pay the taxes," Moody said. "It takes about two or three years before you have to do much to them. Then you have to start pruning them or sheering them to
get them to look like a Christmas tree. Then it is six to seven years after you plant them before you actually reap benefits of selling a Christmas tree."

Contrary to popular belief, Moody said pine trees don't look like a perfect Christmas tree by themselves – it takes some human help. Growers have to spend time pruning and shearing to get the traditional shape and look of trees consumers are used to buying.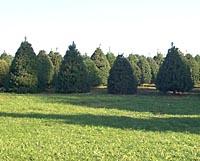 Bill and Dale Barker are newcomers to the Christmas tree business this year. Actually, they began more than seven years ago, but this will be the first year they have trees for sale. With more than 4,000 trees on their farm, the lot feels like a
forest of Christmas trees on the edge of Lexington off Todd's Road.

"We started with about 3,000 trees and probably lost 500 the first year," Dale said. "So we have some trees 8-feet tall and some that are only 2-feet
tall. It's been a long time and we've spent a lot of money. We haven't made any money yet, but we hope to make some this year. We have really enjoyed it. It's been a great learning experience and it's a great thing to do with the family."

Both the Moody's and the Barker's have relied on the cooperation of the Kentucky Christmas Tree Grower's Association as well as University of Kentucky Extension Forestry Specialist Deborah Hill. Hill works directly with the Association and Kentucky growers to provide advice about cultivating and marketing Christmas trees. She's advocating innovative ideas that may help growers make money from their land while they await the day Christmas trees are ready to market.

"I have really encouraged Christmas tree growers to
consider AgroForestry, where the trees would be only one component of the system," she said. "They could have an annual cash flow crop that would be growing between the trees. So they would actually get a return on the land, while they are waiting for the tree crop to grow into a marketable commodity."

Hill said cash-flow crops suitable for growing between tress include pasture crops, alfalfa and other types of hay, and some vegetables depending on the market in the area and what the grower is able to sell.

"You space your tree rows wide enough to harvest your crop and what you may end up with is a wide alley of your cash crop and then, say, two or three rows of trees, that are spaced about six feet apart," she said. "Then you may have another wide alley of your cash crop. So your land is basically giving you an annual return, while you're waiting on your tree crop to be fully marketable."

The best thing about growing Christmas trees is that
every year there is a guaranteed market for them when the holiday season rolls around, Hill said.
Moody said most of his customers return every year.

"Most of our customers are repeat customers," he said. "Every year we send out a card to tell the clients when were going to be open, what our hours are, how much the trees are going to cost."

The Barkers hope to start similar traditions on their side of town and earn the business of local residents wanting to experience cutting their own tree with their families.

"We started this because my family really enjoys going and cutting our own trees," Dale said. "We started cutting trees over in Stamping Ground many years ago and it became a family tradition. We're hoping our farm here becomes a tradition for other families."

Hill recommends those considering growing Christmas trees start small. She said growers should not start with 50 acres of trees just because they have 50 acres to spare.

"I would start with one or two acres and see how much work is involved, see if you have the option for irrigation, look at a lot of different things," she said. "Just don't start with 50 acres of trees or you will regret it."

When the KCTA started in 1986, the aim was to get
half of the Kentucky market and that hasn't even come close to happening, so Hill said there is plenty of room for new growers in the Commonwealth.

"The association has remained strong this whole time. They have a web site and one of the things that I think is terribly important, is that the growers are so willing to help one another," Hill said. "So if they had a particular type of problem they will tell people how they got into it, mistakes they made in
planning -- there are all kinds of things they seem very willing to share with one another. So, if you decide this is something you want to do and get involved with, you have got a little safety net right
there of experienced people who would be more than willing to share their failures with you."

The KCTA web site is located at http://www.kychristmastrees.com/. Contact Bill Moody at (859) 233-1140 or Barker's Tree Farm at (859) 223-4354 for more information on their trees or questions about growing and marketing Christmas trees in general.
Contact:
Deborah Hill  859-257-7610