Residents of the Royal Arms apartments in Todd County are looking forward to reaping an abundant harvest from their hard work in the community garden. The garden is the latest in a series of empowerment programs for residents.

"This is a community effort," said Amanda Francis, the Expanded Food and Nutrition Program assistant in the Todd County office of the University of Kentucky Cooperative Extension Service. "We started about two years ago with a community empowerment program using different partners like the police department, ambulance service, social services, a local women's church group and the extension office."

They meet with residents once a year to determine what types of programs they'd like to have and programs are offered monthly. Programs have included everything from basic car care to drug awareness to food safety and demonstrations. They also started a neighborhood watch program and have block parties.

"One of the things they wanted was a garden because of the high costs of produce," Francis said. "So we started the community garden this year and we plan to do it every year. We have a calendar so each resident who signed up to participate knows what week they are responsible for, and we have the kids out during our summer feeding program."

The Todd County extension program administers the summer feeding program which provides a free lunch to young people during the school break. The kids help in the garden every week, and Francis said it has been a learning experience for everyone. About 75 percent of the families living in the apartment complex are participating in the garden.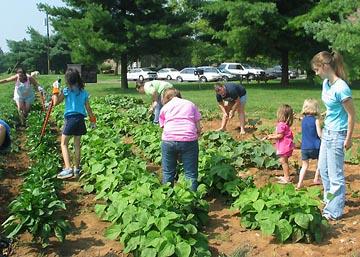 Tomatoes, several varieties of peppers, beans, cauliflower, squash, zucchini, cucumbers, cantaloupe and watermelons are growing in the garden on a patch of land near the rear of the complex. Seeds and plants were donated by a local business and the high school greenhouse.

Francis said she relies on Curt Judy, Todd County extension agent for agriculture and natural resources, for the expertise needed for the garden. Judy said the garden has been a rewarding experience for him and his first experience with the empowerment program. 

"Most of the folks have not gardened before, and it was a totally new experience to them so I'm just trying to help them out," he said. "We bring the tools and plants out and let them do the work. I just try to help out and point them in the right direction. It looks as good as some of the gardens I've raised."

Francis said when the empowerment program first began many of the apartment residents didn't know each other or only knew those on their floor. Now, they are much more of a community having cookouts and potlucks.

"They talk together, laugh together," she said. "Their children know each other. They share babysitting responsibilities and do more to assist one another."

Resident Wanda Higgins works in the garden as well as volunteers with the summer feeding program.

"This community is a really good community, and they give to us so we wanted to give to each other and help each other out," she said. "We have a lot of elderly and it helps them as well. I've learned a lot, especially from Curt, on how to fertilize, hoe and weed. It also gives the kids something to do because there's not a lot to do around here and it's very educational. They've asked me where the flowers come from, and I tell them that's what makes the tomatoes and cucumbers. It's very exciting just to see the produce on (the plants), but I can't wait until it's ripe, and we'll have a potluck and enjoy it together. It's brought us closer together."
Contact:
Amanda Francis, 270-265-5659, Curt Judy, 270-265-5659