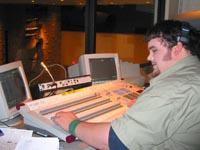 Lights! Camera! Action! The glitz and glamour of a theatrical performance may be what entices students to get involved in play acting, but the life skills they learn are what keep them committed. Floyd County 4-Hers recently presented the fifth installment of the annual Community Theater at the Mountain Arts Center in Prestonsburg.

"We have a wonderful tradition here in eastern Kentucky," said Chuck Stamper, University of Kentucky Extension agent for 4-H youth development in Floyd County. "Our kids are so talented in speaking, storytelling and acting ability that we wanted to focus one of our 4-H communications programs on the theater."

Stamper and other leaders try to make the theater experience as close to the real thing as possible. He said the Mountain Arts Center is just like any professional theater, and it gives the students a chance to learn everything about a stage production.

Auditions are held in December and students begin putting a production together in January of each year. By the middle of March, they are ready to present the show to two audiences. Students are responsible for lighting, props, audio and stage management. 

Stage manager Shannon Hicks is a senior at Piarist High School. She's been involved in the Community Theater since its inception in 2000.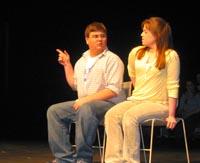 "It helps me work on my leadership skills," she said. "I've been backstage most of the time, and I've really learned to get people to do what they need to do. I've also seen all the plays and learned the messages of them. It's let me see a whole different path that I probably wouldn't have been involved in otherwise."

Stamper said the theater is a teacher of many things, the least of which is putting on a play.

"You can teach every life skill through theater – public speaking, organization, time management, leadership, memorization, internalization and emotional development," he said. "We also try to tie everything into real theater and give our 4-Hers the responsibility and ownership of the whole production."

Prestonsburg High School Senior Casey Price has been involved in theater since he was 9 years old. Being a part of the Community Theater was a natural progression for him. He's not planning to go into theater as a career, but he does believe his experiences have prepared him for whatever he pursues.

"Theater brings out a lot in people that you don't normally see," he said. "We've got kids here who are finally speaking out and coming out of their shell. All the plays have a real good meaning and with kids coming in from the schools we get to touch them through that. It also teaches you to just go on and go through things and do them all the way."

This year the group chose to present again the show that started the theater five years ago. "Two to Go," is a production of two one-act plays that focus on the hardships of being a teenager.

Mountain Arts Center Education Director Khrys Varney said the theater is a good experience for all involved and it meets a goal she has for the MAC.

"It's a positive experience for the kids who are in it and for us as a community," she said. "We get to see the things that are happening with the children and relate to things in their lives, and we can help them grow. When I first came here, I wanted to be able to expand programs and offer more in the way of private instruction, arts education and work more with the community and this fits right into that."

Stamper said there is more to Community Theater than just the productions. They also develop lesson plans related to the play they are presenting. Teachers can access those through the Floyd County Extension office Web site for use in their classrooms.

Floyd County 4-Hers do other smaller theatrical productions throughout the year to involve more students. Stamper said some students have participated in other regional theater productions and some have gone on to work at the Mountain Arts Center and theaters around the state. They also prepare students for regional theater auditions.