Who would think that something as simple as a batch of cookies could make a difference to our military men and women? University of Kentucky Cooperative Extension Service agents around the state do, and some are making plans to prove it by joining the Great American Cookie Swap Dec. 9.

When Wendy Stivers, 4-H youth development specialist and Kentucky military liaison for Operation Military Kids, heard about the idea of a cookie swap, she immediately knew it would be a good way to involve UK Cooperative Extension.

"Since we're doing this Operation Military Kids project, (the cookie swap) would be a really neat thing for us to get our 4-H kids involved with," she said. "But also our other organizations that we're working with involved, too."

The Great American Cookie Swap is sponsored by DuPont™ Teflon®. They will make a donation to Treat the Troops™ for every person who registers athttp://www.GreatAmericanCookieSwap.com to host a local cookie swap party. Treat the Troops is an organization under America Supports You, a U.S. Department of Defense program that recognizes citizen support for members of the military. Treat the Troops prepares and sends homemade cookies to servicemen and women stationed around the globe.

The swap party can be tailored to fit any organization. The idea is for people to bring a tray of cookies and copies of the recipe to the gathering. At its most basic level, participants swap cookies and share the recipes. Participants go home with someone else's cookies and a variety of new recipes to try.

Some Extension groups are expanding on that idea. In Hardin County, the Sizzling Skillet Cooking Club, made up of middle school and high school 4-H'ers, is hosting a cookie swap and plans to pack up some special treats to send to a recently deployed local National Guard unit. Liz Kingsland, Hardin County family and consumer science agent, has a son-in-law in that unit. She said that something as simple as cookies can make a big difference to service people who are away from their families.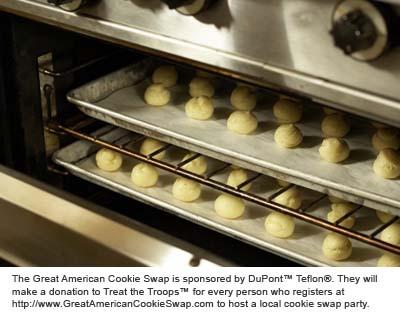 "My son-in-law told my daughter when he left that he didn't need anything sent to him right away," Kingsland said. "After he'd been there about two weeks he said, 'You can send those cookies. We're tired of the stuff we're getting around here.' They love to receive packages."

In addition, Kingsland is planning to combine her county's Great American Cookie Swap with their activities under Operation Military Kids. Kids who have one or more parents deployed with the National Guard or Reserve will be invited to the party and will take plenty of cookies home with them.

Operation Military Kids stems from a collaboration between the U.S. Army and communities around the country to support the children of deployed National Guard, Army Reserve and active duty soldiers. As the Kentucky military liaison for the project, Stivers coordinates with Extension offices around the state. Funding is provided to community partnerships to create activities for children and teens who are suddenly separated from one or both parents due to a deployment. Because their parents are members of the National Guard or Reserve, these "suddenly military" children are often left without the emotional and financial support that comes from being part of a regular U.S. Army community. Operation Military Kids attempts to correct that situation by working at the grassroots, local level.

4-H is working in partnership with other community groups, including Boys & Girls Clubs, Kentucky Department of Education, and Family Youth Resource Service Centers. 

"I hope that our other Operation Military Kids team partners will get some of their folks involved with (the cookie swap), too," Stivers said.

If you are interested in hosting your own Great American Cookie Swap to support our troops, register online at http://www.greatamericancookieswap.com. For more information, contact your local Cooperative Extension office.
Contact:
Wendy Stivers, 859-257-5961, ext. 248, Liz Kingsland, 270-765-4121