A diagnosis of diabetes can be overwhelming for a person who suddenly faces a lifetime of eating differently and becoming more active. Mildred Mellert of Ashland was diagnosed nearly six months ago with diabetes and, like many with the disease, she's looking for ways to manage it better.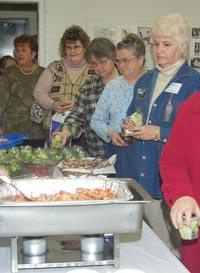 Greenup County Extension Family and Consumer Science Agent Rita Spence is working with local health officials and hospitals to educate diabetics about healthy eating and living. Realizing that Eastern Kentucky leads the state in the number of diabetic residents, Greenup County has developed a program called "Living With Diabetes," which recently held a three-seminar series about how to cook diabetic-friendly meals.
"I think diabetes is higher here because of the way people eat. Even the vegetables – everything is pretty much swimming in grease," she said. "A sedentary life and lack of exercise is also a big factor. We've got to get away from that and make some healthy lifestyle changes." Mellert said classes like this one encourage her, and reinforce things she's been told by health professionals.
"It helps to listen to the questions here and to what other diabetics say," she said. "Anything I can learn from them, I need to hear it."
The Dining with Diabetes sessions include tips and educational information about food choices for balanced meals and even desserts. Greenup County Homemaker's volunteers prepared and served meals to full classes at the Advance United Methodist Church three Mondays in March.
"We're teaching good nutritional choices for any diet, but especially for diabetic diets. We've concentrated on well balanced meals," Spence said. "The first session focused on desserts, this one focused on main dishes and the next will be about side dishes, but we do provide a full balanced meal at each session."
Spence said the attitude of prevention is what she hopes to spread in Greenup County and the surrounding area. She said that since diabetes is a lifetime condition, people have to come to terms with the fact they never conquer it, but with good diet and exercise, a normal life is not only possible but expected.
"The most challenging thing with diabetes is to remember each one diagnosed is an individual and there is no one rule that will fit every person's diet," she said. "That's why they have individual counseling with diabetic educators."
The group plans to have a reunion in September to evaluate the impact of the cooking school. Spence said other schools also are being planned for fall 2002 and maybe spring 2003 due to the popularity of the program.
Contact:
Rita Spence  606-473-9884