In 1985, Jack Niece, University of Kentucky College of Agriculture Extension agent for 4-H youth development in Breathitt County, and a handful of volunteers bought three dozen hot dogs and decided to sell homemade corn dogs at the county's Honey Festival to raise funds for 4-H activities. Since then, the fried treat has grown in popularity to become a staple of the festival and a reason for volunteers to go to "college."

"We ordered about three dozen wieners to start off (the first year) with and then we sold those and I had to rush out to the local grocery store to buy more," Niece recalled. "We sold those and had to rush out and buy more … so that's sort of the way it started."

Current Extension 4-H Youth Development Agent Verlene Neace continued Niece's tradition when she took over the position eight years ago. A few years ago she was preparing to teach volunteers how to make the corn dogs and jokingly called the training Corn Dog College and it stuck. Now graduates of the one-hour, lunchtime event earn a diploma and, this year, a t-shirt that also serves as an advertisement for the corn dog booth.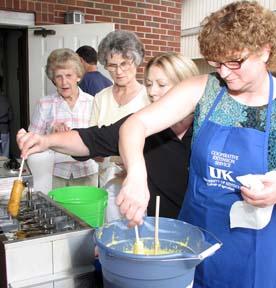 "We have to do an orientation for volunteers," she said. "We want to make sure we go by the health department guidelines because they come to inspect us twice a day and we want to make sure everything as far as food safety is just as it should be. I was just joking around one day and we came up with Corn Dog College. It's a lot of effort for someone to come on Labor Day weekend and work three or four hours. It's not easy work; it's nonstop."

Nearly 40 Corn Dog College students learn all about safe food handling, mixing the batter, sticking the hot dogs and frying them to a golden brown. Neace said there really is an art to it – the hot dogs can't be too cold or too wet and the batter must be just the right consistency to stick to the hot dog. The oil must be at the right temperature and the stick must not be too far into the dog.

Neace said people will stand in long lines just to get a corn dog and some of them have special requests, which volunteers regularly honor. A popular request is a "Jack Special," which is a double-dipped corn dog made by Jack Niece. 

"A double dipper is just simply … you cook your corn dog with one coat of batter, then you cook it till its brown, and then you dip it and cook it again," Niece said of his method. "I happen to like a lot of crust on my corn dog so I do that every now and then. Some people (ask me to specifically double dip theirs for them), they know I'll do it for them and that I like a lot of crust. They say, 'Hey, will you do me a double dipper,' and I say, 'Oh yes, I will.'"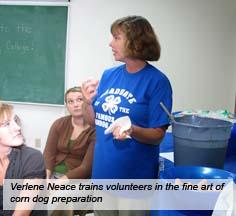 Once people taste the corn dogs, they understand why they draw such a crowd, Neace said. They are "not like any other corn dog."

"There are so many people that wait for these (corn dogs) and then they want to know 'Well how do you make those? What's in that?' like it's some kind of secret recipe…it's no secret, it just takes a little bit of work and technique. "

Twenty-one years ago, the corn dogs were sold from someone else's booth, Niece said. Today 4-H uses its own air-conditioned booth. A 4-H clover on the front informs festival-goers of the year's sales goal and updates are made with a marker as they move toward the goal.

Selling the corn dogs is Breathitt County's only 4-H fundraiser and it brings in an estimated $3,500 after expenses. With that money, the 4-H council offers partial camp scholarships to send 20 children to camp. It also helps pay for registration fees for Teen Conference and Issues Conference and goes toward buying ribbons for demonstration awards.

"The biggest order last year was 24," Neace said. "We have had people order corn dogs to take home and put in the freezer. People will tell me that's why they come to the festival…to get a 4-H corn dog."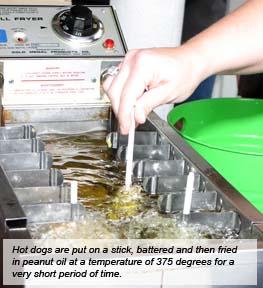 Volunteers have never been difficult to find. In 21 years there has only been one time a volunteer didn't show up and that was because she'd been in a car accident, Neace said.

"They really enjoy doing this and anytime I have anything going on, they help out," she said. "I work right along in the booth with them. I'm not going to ask them to do something I wouldn't do. They are very loyal and dedicated."

Neace has ordered 4,000 hot dogs for this year's festival, but she said she can always go buy more if demand dictates.

The Honey Festival begins Sept. 1 at 6 p.m. in Jackson and runs through Labor Day. The corn dog booth will be open Sept. 1 through 3 until midnight each evening.
Contact:
Verlene Congleton Neace, 606-666-8812