More ethanol plants projected to come on line over the next several years could result in lower feed costs for livestock producers. The University of Kentucky Cooperative Extension Service is studying whether byproducts from ethanol production can be an economical and efficient feed for goats. 

This is the second year of the project conducted by Terry Hutchens, a UK extension associate for goat management and Ken Andries, an animal science specialist from Kentucky State University's Land Grant Program. The study, at a goat feedlot in Barren County, is funded by the Distillers Grains Technology Council. 

"Distilled dried grains with solubles are a co-product or byproduct of ethanol production that could replace conventional feeds," Hutchens said. "Last year we had some success and found that you could replace conventional feeds and save about half the feed costs."

"DDGS essentially is where you take the starch out of corn and multiply all the other nutrients in the corn by three," Hutchens said. "So you have a 30 percent protein, high fiber, high mineral product that is excellent in ruminant diets." 

Andries agreed with Hutchens' assessment and said the study also has implications for other livestock.

"Any time we can reduce feed costs, we reduce production costs; that in turn improves our bottom line," Andries said. "It would be important to all operations, cow-calf, sheep, as well as goats, maybe our dairy producers, even swine could benefit."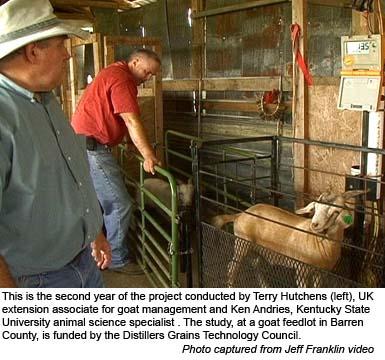 Some of the DDGS in Kentucky come from bourbon whiskey production, but the primary source is ethanol with more than 100 refineries on line and more in the works.

"In the next four years we will be producing about 20 million tons of DDGS in the United States on an annual basis and that will probably increase with time," Hutchens said. 

The current study includes 160 goats of mixed breeds and gender. The goats are divided into eight groups of 20 animals each and fed until they reach an average weight of 65 pounds. The goats are weighed every 14 days to compute their average daily rate of gain.

The goats are fed four different treatments with varying levels of zero, 10, 15 and 25 percent DDGS. Hutchens said the goats have responded well, particularly when the DDGS comprises 15 to 25 percent of the diet. The treatments also include soybean mill, soybean hulls, minerals and declining levels of corn. 

"It's a simple diet that can be put together at any feed mill," Hutchens said. "It is a very economical diet."

The feedlot is on Charles Smith's farm at Temple Hill in Barren County. Smith is a meat goat producer and has been pleased with the study's results.

"We did one comparison of a commercial pellet on last year's test and we did a commodity blend that did just as well at a little bit less than half the cost, so that's money in my pocket," he said.

"The bottom line here is to reduce costs and still get the performance we need to be profitable," Andries said. 

Plans for the study to continue past this year are uncertain, Hutchens said. But he said he would like to look further at replacing hay and other high fiber staples with dry matter, such as DDGS, to see the results on the goat's diet.
Contact:
Terry Hutchens, 859-257-2465, Ken Andries 502-597-5094