Montgomery County is a value-added success story, and now others across the United States are taking notes. University of Kentucky Cooperative Extension Service agents Ron Catchen and Peggy Powell recently brought a few innovative entrepreneurs from Montgomery County to the National Value-Added Conference in Lexington to tell their stories and share their strategies. 

Powell, a family and consumer sciences agent, said the extension agents get a lot of requests from local farmers and other forward-thinking individuals to help them get started with a variety of value-added ventures. The latest success story is Sabrina Parks, a Jeffersonville resident who started a home-based business baking gourmet doggie treats this past January. Parks said she works 10-hour days in a local factory. Her granddaughters Courtnee' and Ashley Davis worked hard alongside their 'Nana' to get the business started. 

"I had a vision and I sought advice from the local extension office, the local health department, local business, family members and co-workers," Parks said.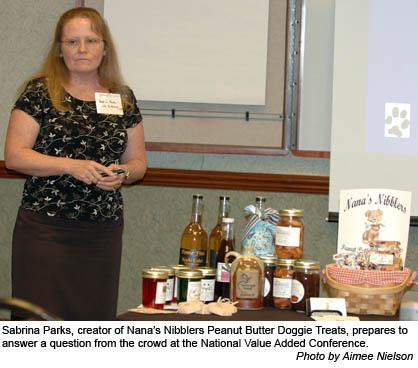 Park's dog, a dachshund named Tiny, helped with product testing. She said the dog isn't allowed in the kitchen, so he will sit at the edge of the room and beg for a peanut butter biscuit. Once Tiny and several of his friends approved the recipe, Parks sought a nutritional analysis from UK Regulatory Services and then she was ready to start getting her product into some local businesses. 

"It all happened around the time of the pet food scare, which really helped me out," Parks admitted. "People came to me because they knew my treats were safe."

Parks uses all natural ingredients and buys from local farmers whenever she can. She uses Weisenberger flour, which is milled in Midway. 

"There are no additives or preservatives in these treats," Parks said. "Being a home-baked treat, the nibblers will last about three to four weeks if they are stored in a cool, dry place."

Powell has stood alongside Parks and helped her learn ways to make the products attractive to potential retailers, even making a few appointments in the Lexington area during the conference. Parks hopes to expand her business to cat and horse treats in the future.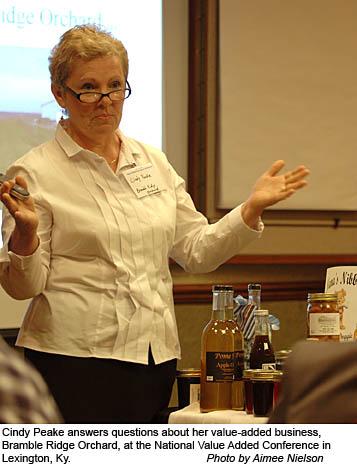 Other value-added ventures in Montgomery County have been around a little longer. Terry and Cindy Peake began developing Mt. Sterling's Bramble Ridge Orchard in 2001. They were empty-nesters looking for an interesting way to spend their retirement years. Neither of them had an agricultural background, so they called on the local Cooperative Extension pros to help them get started. 

"In 2001, we planted 2,600 trees," Cindy Peake said. "We are the only high-density orchard in Kentucky in that we planted all dwarf trees. We thought we were done once we got them planted - little did we know, we were just beginning."

Peake said before the Easter freeze earlier this year, they were expecting nearly 6,000 bushels of apples from 13 apple varieties, but now with nearly 100 percent of the crop decimated, they are hoping for 10 bushels. The freeze was devastating, but it won't kill business at Bramble Ridge Orchard because the Peakes have mastered adding value to their product. 

Cindy said it's always been their goal to involve the community in their venture.

"We want the community to receive the value," she added.

School groups come to the orchard every year for wagon tours. They offer apple butter, pie filling, jams and a jelly product they call "squish." Visitors can even purchase boiled cider syrup. Peake said the pink lady apple usually is the last variety to ripen during the growing season, so she thought it would be appropriate to celebrate it with a single-variety cider they named Pome Fini', which is French for "final apple." They bottle the cider in wine bottles and offer it for sale at a popular beverage store in Lexington. 

They also opened a tearoom and café on the orchard grounds where they serve food -- many items with apples, of course. She said a popular item is her cider bread. Aside from food products, Peake also makes cider soap with beeswax from the 20 honeybee hives they maintain in the orchard. 

"We do anything we can to promote our product," Peake said.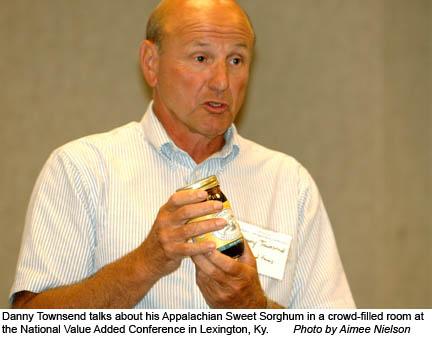 Ron Catchen said one of the first things he did when he came to Montgomery County was take a little trip up Highway 460 to survey the area. He saw a local farmer out working in a sorghum field. That sorghum producer turned out to be Danny Townsend, who is continuing a 90-year family tradition of producing the sweet syrup crop. 

The Townsends are no stranger to value-added success, with their sorghum judged best in the nation in 2005 and 2006. Townsend grows between 35 and 40 acres of the sweet cane and he said he's "always looking for ways to add value."

Townsend said they still use the old-fashioned, mule-driven sorghum demonstrations at festivals, but the farm has become one of the most state-of-the-art, mechanized sorghum operations in the United States. The hard work has paid off, and now Townsend's Appalachian Sweet Sorghum is available for sale in nearly 175 stores in Kentucky and the surrounding states.

"My goal is that when you travel to, say, Vermont or Texas or anywhere in the country, you'll be able to find Appalachian Sweet Sorghum on the shelf," he said. 

Beyond syrup, Townsend also has found a market for selling clean sorghum seed and offering his products as gift baskets. He said corporations use the baskets as gifts for their clients and he can hardly keep up with the demand. Townsend said another product he expects to go over big is sorghum caramel corn which he touts as being "like Cracker Jacks, but ten times better."

Park, the Peakes and Townsend are only three examples of the value-added success in Montgomery County. Powell said she is amazed at how people are continually thinking outside the box and she's just glad to be of help.

"I like the fact that they trust extension enough to ask us to join with them in materializing their innovative ideas," she said. "I am just glad we can be a part of it with them and help them in some way."

For more information on value-added products and marketing contact a local Cooperative Extension office.
Contact:
Peggy Powell or Ron Catchen, 859-498-8741