Take a left off of Clear Fork Road in Perry County and you're on a wide gravel path that winds through the D&D Ranch – a contrast of cultures and environments. On one side of the road coal mining showcases a world eastern Kentucky knows well. On the other side are green pastures on rolling hills, filled with several hundred head of cattle.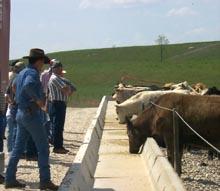 Finding alternative uses for reclaimed mine land often is a challenge, but it's becoming the center of heifer improvement for eastern Kentucky beef producers. Perry County Cooperative Extension Agent for Agriculture and Natural Resources Charles May said there is more than meets the eye on the nearly 800 acres of D&D.
"When most people first come up here and see this I guess their expectations of what they are going to see drastically change," he laughed. "Their eyes open up when they come up over the hill. This is flattened out and kind of looks like Oklahoma rangeland. We've had several consignors bring one or two cattle into the program and when they get here they say if they knew it was like this they would've brought a lot more."
May said the program was really the brainchild of University of Kentucky Extension Beef Specialist Les Anderson. Anderson worked with a group of east Kentucky Extension agents and producers to develop the guidelines for the program which is now well into its fourth year.
Consignors bring spring-born heifers to D&D in late October each year. May said all heifers go through the same vaccination schedule and no growth hormone implants are allowed. Anderson's goal for the program is to market a set of heifers that can be grouped to calve within a 45 to 60 day period, so he recommends an estrous synchronization program, but it's not mandatory.
Johnson county beef producer Jack Holbrook has several heifers in the program and has been involved since it began. He thinks the heifer development program at D&D is unique in the Commonwealth and that it will become a model program for others in the future when the benefits become widely known.
"This is the only heifer program in the state that is handled this way where all the heifers are brought together from various consignors in one place," he said. "We've seen a steady increase in the price of the three year olds. Last year's average sale price was quite a bit higher than the average stock yards price. Even if we deduct our costs, we still made a nice profit."
Holbrook said he's also glad for the flexibility of the program since consignors aren't required to sell the heifers at the end of the program. Producers can take the heifers back to their farm to improve their own herds or they can sell them in a special sale if they don't need the heifers.
Recently, the heifer program received Phase I funds which helped automate the feeding system so the program could handle more cattle and also hire a heifer manager. Larry Clay currently is the farm manager for D&D, but being able to hire someone solely responsible for the heifer program freed-up a lot of time for him to concentrate on the ranch overall.
When east Kentucky native Bill Bowling returned to the state after a stint in the United States Marine Corps he knew he wanted to do something with livestock because of his agricultural background. He arrived at the ranch about seven months ago to take charge of managing the heifers.
"My job is to take care of these heifers," Bowling said. "I think it helps the consignors to know they can call me and come out here and we'll go find their heifers and they'll see how we do things. It helps them have faith in the program."
Bowling also is confident about the product coming out of the heifer program.
"We're giving out a very good product," he said. "The heifers are bred to proven registered bulls. We basically take all the guesswork out of the process. We can tell them [consignors] when heifers will calve and even what the calf may be like. They don't really have to put a lot of money or a lot of time into it to get back a good product. It's not only good for the consignors but the Kentucky Beef Network as a whole."
Larry Clay has seen tangible results since the program began. Most producers notice improvements in the quality of their cattle, but Clay said those are fully realized when they can see numbers to support it.
"The size of the calves we see in the fall has gone up an average of about 150 pounds since we started this program," he said. "Producers may bring better cattle now but they are probably producing better cattle too with the better management techniques this program teaches."
Many producers in eastern Kentucky don't have large beef cattle herds. Clay said in many counties, beef programs are non existent because the land simply won't support good grazing. That factor results in smaller herds, but Clay thinks the program helps improve the prices and quality for the cattle they do have.
"We've got some good producers with limited numbers of cattle but they are good quality cattle," he said. "They want to do a good job even if they only have 15 to 20 cows.
May said this year more than 400 heifers and 73 consignors from 18 counties, two universities and three states are involved in the heifer development program. The program participation nearly doubled from last year. He believes it's because the word is getting around about the improved quality of the last few years' participants.
"Local livestock sale barn owners have been telling us they can really see a difference in the quality of animals going through there and they give us a lot of credit for that," he said. "They say this program has really had an impact on the overall quality of cattle in eastern Kentucky."
May said they follow the heifers progress even after they leave the sale ring or go back home. Project coordinators contact buyers and ask them how the calving process went and if they are satisfied with the animal they purchased. The evaluations help improve and adjust the heifer development program for future years.