What extension specialists are now calling the "Easter Freeze" devastated the state's fruit growers. In a weather event of historic proportions the University of Kentucky Horticulture Research Farm recorded five nights in a row with temperatures as low as 22 degrees - much too low for the majority of fruit crops to survive.

"This was a pretty devastating freeze for fruit growers with 3 to 5 days of below critical temperatures," said John Strang, UK College of Agriculture extension fruit and vegetable specialist. "Most of our critical temperature charts are based on temperatures getting down into the critical range for a short period and then rising, but with this series of freeze events, the temperature stayed there for multiple hours some nights."

Throughout the rows of apple trees at the research farm, few blossoms are visible, and most trees look "crispy," with countless dead flowers. Blackberries fared about the same as the apples, although some varieties seem to have survived the historic freeze. The grape situation is another story that will continue to unfold in the next several months.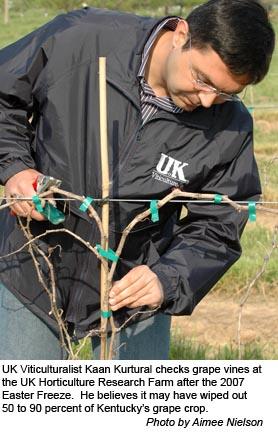 "Growers are looking at a 50- to 90-percent crop loss depending on what varieties they have," said Kaan Kurtural, UK College of Agriculture viticulturist. "It's especially disappointing for new growers - ones who got started last year. They are looking at a year's loss in growth and hence bringing them into productivity later than they would've expected."

One thing that made this year's late freeze so damaging was the stretch of above-average temperatures preceding the event. 

"It was particularly destructive from more than a temperature standpoint," Strang said. "We were very developmentally advanced. Flowers develop based on accumulated warm temperature exposure and flowers that developed with the 80-degree temperatures prior to the freeze were particularly sensitive to freeze injury. Then, when they were exposed to those (low) temperatures, we had serious damage to our fruit crops."

Kurtural concurred and added that many of the grape vines were breaking bud or had up to four leaves unfolded. 

"At the time of the freeze, if they had been dormant, they would have been cold hardy down to 10 degrees Fahrenheit," he stressed. "Unfortunately buds that were pushing out were only hardy down to 24 degrees and those that had three to four leaves were only hardy down to 28 degrees. The freeze killed about 50 percent of the buds and shoots the first night and the temperatures kept consistently going down. Although a lot of buds look alive at this point, probably come July as the vines start growing -- since there is going to be a very small crop on them – 50 percent of those shoots with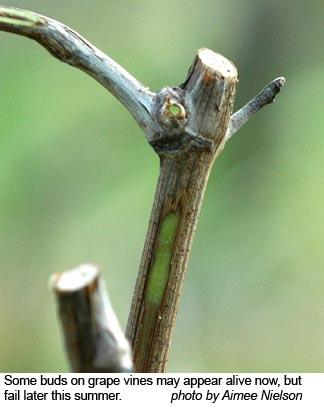 clusters will fail."

Strang said some of the fruit trees face the same deceptive problem. Many of the trees are producing flowers that will fall off the tree and never set fruit if they have been injured or are not pollinated. 

"When an apple flower freezes, as the temperature gets cold, ice nuclei form on the outside of the tree and the tree super cools to about 29 degrees Fahrenheit," he said. "At that point, ice inoculation takes place through a wound on the tree and it runs through the vascular system of the tree. This type of injury is not lethal – freezing occurs outside the cells of the tree. In the flower, freezing takes place just under the skin or epidermis of the flower and it splits the epidermis off the flower or the small fruit. This type of injury heals, but it may produce a frost ring on the fruit. As the temperature continues to get colder, we get freezing at the base of the pistil (female part of the flower) and this moves down into the ovary area and kills the flower."

Strang said there is a wide variation in survival of fruit in the state which very much depends on varieties growers chose to plant and their location in the state. At the research farm in Lexington, a Gala apple tree sits barren next to an Enterprise apple tree that may still have a full crop. Many times, if five percent of flowers survive, there is enough to produce a full crop.

He said the Asian pears particularly were hit hard as were peaches and cherries.

"The freeze killed all the flowers on the Asian pear trees, but it also caused some wood damage," he added. "We've pretty much lost all the peaches in the state except for a few select areas. The freeze pretty well eliminated stone fruit crops."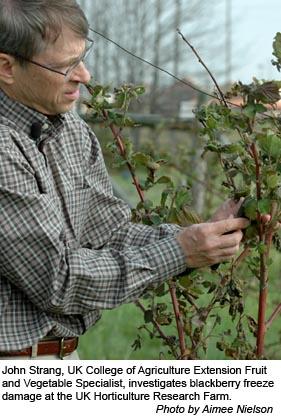 Strang said some varieties of raspberries will produce a partial or full crop, but most of the blackberry fruit have been lost for the year. Strawberry growers will have a partial crop. Blueberries also took a significant hit.

"Blueberries are one of our hardiest crops and we rarely ever miss a blueberry crop, but we've been hit significantly this year," he said. "We have a few live buds here in Lexington and we will have some blueberries, depending on varieties growers have planted and their location in the state."

Strang said the state hasn't seen a loss like this in apples and peaches since 1955. Kurtural said it was an event of historic proportions. 

"It wasn't like a normal spring radiation frost event, it was an advective freeze with lots of wind, that is difficult to protect against," he said. "A 500-mile band from Canada affected growers from Michigan to Atlanta." So what could growers have done to avoid disaster this year? Anything? 

Kurtural said that as far as grapes are concerned, if growers followed the Cooperative Extension Services recommendation to plant 75 percent French-American hybrids and 25 percent vinifera varieties, they could be able to salvage a partial crop -- as much as 50 percent.

Growers still need to maintain the fruit trees, vines, and bushes for the remainder of the season. Strang said growers may have to make tough decisions about trees with partial crops about whether or not the reduced crop is going to be worth spraying 15 to 16 times. 

Kurtural said grape growers must absolutely keep spraying the vineyards.

"They don't have to be as aggressive as last year, but they need to spray both fungicides and insecticides," he emphasized. "These vines are going to be especially weak. Since we have the Japanese beetle problem, that still needs to be controlled this year. They could drop their management level for the grape berry moth, but Japanese beetle and grape root borer have to be managed aggressively this year. They will have a lot more shoots than they are used to and they will have to manage the canopy a lot more aggressively than in years past. They can also save a little money on fertilizer this year. The vines heal by increasing the amount of leaf area in the spring. So try to delay fertilizer applications, if any until shoots are 12 inches long."

Above all Strang said that growers need consumers' support to get through this devastating year. 

"I want to encourage consumers to support our growers," he stressed. "They'll still have a lot of vegetables, some fruit and a lot of value-added products. They will be financially stressed this year and they need the support of the consumers. We all like the green areas and locally grown fruit in Kentucky, but if our growers aren't financially stable we aren't going to be able keep our green areas."
Contact:
John Strang, 859-257-5685 or Kaan Kurtural, 859-257-1332