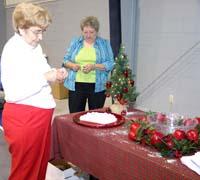 For the eighth year, University of Kentucky Cooperative Extension agents in eight southeastern Kentucky counties combined efforts to offer a Holiday Cooking School in London.

The popular event sold out, with more than 400 attendees treated to food samples, gift ideas and educational information about whole grains and healthy eating during the holidays.

Lora Lee Howard, Clay County Extension family and consumer sciences agent set up a booth devoted to sweet potatoes.

"This year I'm focusing on sweet potato soup," she said. "It's a recipe that you can use sweet potatoes from a can or ones from the garden. Sweet potatoes are very nutritional with a lot of vitamin A. Not everything we cook at the holidays is bad for us. We can have some healthy foods at the holidays, too, and that's what we try to concentrate on here at the cooking school."

Laurel County Extension Family and Consumer Sciences Agent Judy O'Bryan coordinated the event. She said some people begin lining up at the doors more than two hours before they are allowed inside.

"It really is a fun program," she said. "It's a totally new audience than we would reach in other ways. We get to showcase Extension and what Extension does. It's neat to see people come by who don't know much about Extension and then we see those same people come visit us for other things throughout the year."

Each year organizers of the Holiday Cooking School invite two individuals or groups to come and present holiday recipes to attendees. This year's demonstrations included "Making Half Your Grains Whole." The idea is that by ensuring half of a person's daily grain intake is whole grains, people will get more fiber into their diet. O'Bryan said more fiber during the holidays will fill a person up quicker and help prevent overindulging in unhealthy treats.

"We always have a general theme and traditional cookies and candies, but being educators we always work in healthy things," O'Bryan added. "Whether it's altering traditional recipes to make them healthier or teaching quick recipes to make in advance, we come up with all kinds of things to help people during the holidays."

In the early years of the Holiday Cooking School, it was an event planned by family and consumer science agents. These days, agriculture and natural resource agents also participate, and 4-H youth development agents have just began taking part.

"This year 4-H agents joined us for the first time," O'Bryan said. "Their theme was Christmas around the World and they also had children's treats and crafts featured at their booth."

The event has even started to attract local and statewide agriculture-related businesses, such as a country ham company and beekeepers. O'Bryan said they would be open to more outside vendors in the future.

The participating counties were Laurel, Clay, Whitley, Knox, Bell, Harlan, Jackson and Rockcastle.
Contact:
Writer: Aimee Nielson 859-257-4736, ext. 267
Contact: Judy O'Bryan 606-864-4167