The emerald ash borer, a destructive pest that has killed more than 20 million ash trees since it was discovered in the United States in 2002, is marching toward Kentucky. Homeowners and timber owners are advised to be aware of this pest and the quarantines associated with it.

"The closest known infestation is in Warren County, Ohio, just northeast of Cincinnati. Infested trees also have been found in the Indianapolis area," said Lee Townsend, entomologist with the University of Kentucky Cooperative Extension Service. "We are not aware of it in Kentucky, but it is clear that the insect is moving this way."

Since its discovery, the pest has cost municipalities, property owners, nursery operators and forest products industries tens of millions of dollars. Most of the devastation is in southeastern Michigan where it was first discovered, but trees in Ohio, Indiana and Illinois have also been affected.

The U.S. Department of Agriculture's Animal and Plant Health Inspection Service expanded its emerald ash borer quarantine to include the entire states of Illinois, Indiana and Ohio effective Dec. 1. The entire lower peninsula of Michigan is already under a federal quarantine. The quarantines and fines are in place to prevent potentially infested ash trees, logs or firewood from moving out of areas where it occurs.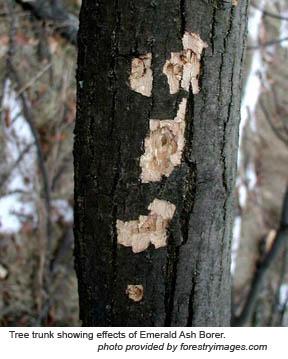 The USDA estimates that if emerald ash borer is not contained or eradicated, it has the potential, over the next 25 years, to cost state and local governments approximately $7 billion to remove and replace dead and dying ash trees that can pose a safety hazard in urban and suburban areas.

The adult beetles nibble on ash foliage but cause little damage, Townsend said. The larvae (the immature stage) feed on the inner bark of ash trees, disrupting the tree's ability to transport water and nutrients. The adult beetles are metallic green and about a half-inch long. The adults leave a D-shaped exit hole in the bark when they emerge in the spring. Woodpeckers like the larvae; heavy woodpecker damage on ash trees may be a sign of infestation. Emerald ash borers only attach ash trees.

The borer extends infestations naturally as adults emerge from the trees in which they develop and fly to new ones. The leading edge of the infestation in southern Michigan expands gradually (about a half mile per year). Large jumps are made when infested firewood or nursery stock is moved long distances, Townsend said. These account for big jumps in distribution. Often, the strategy is to attempt to eradicate these infestations by cutting all ashes within a half-mile radius of the infested tree.

Emerald ash borer probably arrived in the United States on solid wood packing material carried in cargo ships or airplanes originating in its native Asia. Emerald ash borer is also established in Windsor, Ontario. It was found in Ohio in 2003, northern Indiana in 2004, and northern Illinois in 2006.

A concerted effort to stop the emerald ash borer or slow its spread has been launched by state and federal officials. Eradication efforts are under way in Michigan, Ohio, Indiana and Canada to prevent small infestations from growing into large infestations. In addition, quarantines are in place to prevent infested ash firewood, logs or nursery trees from being transported and starting new infestations. Research is being conducted at universities in an attempt to understand the beetle's life cycle and find ways to detect new infestations, control adults and larvae, and contain the infestation.

Townsend said there are several things homeowners and timber owners can do as well. The first step is to become knowledgeable about the insect.

Confirm the identity of ashes in your landscape – be sure you know what you have. Digital pictures of trees, especially of abnormalities, can be kept as a record. Knowing about existing damage can be helpful when watching for recent signs of attack. There are some native ash borers, so there can be holes or scars already present. These native borers attack damaged or stressed trees, not healthy ones.

Be aware of quarantines from surrounding states so that you don't inadvertently bring the beetle into the area – firewood has been a major source of spreading.

Think long term about new landscaping selections. The emerald ash borer is not present at this time, but planting ash trees now may be a gamble against the odds. There are a variety of alternative species that can be used and they will not be infested by the insect.

If you have ashes in the landscape, begin to think about your long-term plan when the beetle arrives. There is no need to make a decision now, but it will help to have given it some thought rather than making rushed decisions later. There are some insecticide alternatives but they require a commitment for the life of the tree. Per tree costs increase with tree size and, over time, the cost of protection will exceed the cost of removal.

Some insecticides, available to homeowners, do have the potential to protect individual trees from emerald ash borer but will not eradicate infestations. Research suggests that the best control will be obtained when treatments are initiated just prior to or in the earliest stages of infestation. It is also important to realize that treatments will have to be repeated each year, Townsend said. In many cases, it may be more cost-effective to remove and replace the tree.

There is a lot of valuable information available on the biology of the insect, location of infested areas and economic considerations to help guide decisions should the insect become established in Kentucky. The UK Department of Entomology has set up a Web site where information and updates on the emerald ash borer can be found. The address is http://pest.ca.uky.edu/EXT/EAB/welcome.html.
Contact:
Lee Townsend, 859-257-7455