Agricultural scientists at the University of Kentucky are spearheading a multi-state, multidisciplinary research effort designed to provide vital information to the poultry industry. 
Researchers are measuring the amount of ammonia produced by animal waste in broiler houses in order to develop an emissions inventory and database. Ammonia is considered a substantial contributor to atmospheric pollution. The USDA-funded study is the first of its kind.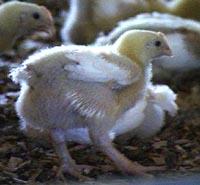 "There are other studies investigating dust, hydrogen sulfide emissions, and ammonia connected to buildings housing different kinds of animals, but this is the first project that specifically monitors ammonia emissions from broiler houses," said Rich Gates, chair of UK's biosystems and agricultural engineering department in the College of Agriculture.  "This research will provide an accurate emissions inventory for U.S. broiler chicken farms."
Gates said a comprehensive database is urgently needed to help producers more accurately estimate ammonia emissions from their farms, and to help them develop control programs.
"The average poultry house contains as many as 25,000 birds, with each one bringing, at most, only about 25 cents apiece to the farmer," Gates said. "That slim profit margin means any change in emissions regulations and subsequent measures by the farmer to comply could have large economic implications for the industry."
The study uses specially-designed gas sampling boxes mounted on interior walls of broiler houses.  Air from a location near a ventilation fan is drawn into the box, where ammonia and carbon dioxide concentrations are measured before being exhausted from the building.           
"This is fairly robust technology," said Ken Casey, UK research specialist.  "It's possible to conduct measurements at a number of levels, from quite inexpensive static measurements to the sort of instrumentation we've got here which gives us real-time measurements, all the way up to research grade instrumentation at a substantially greater cost."
Measurements are being taken on a number of different farms around the state.  Data gathered will enable researchers to make comparisons between sheds using different kinds of management practices.
"For example, we'd like to compare ammonia emissions from houses where litter was changed frequently with those from houses where litter was used longer or reused. We also plan to evaluate whether the use of litter amendments will reduce ammonia emissions," said Casey.
Researchers are measuring building ventilation rate with a special device invented at the USDA Poultry Lab in Mississippi.  The device, called FANS, provides a new method to determine ventilation rate.  Building ammonia emission is the product of ventilation rate and ammonia concentration, so both measurements are important.
Data gathering will continue for 12 months to get samplings during periods of both warm and cold temperatures, dry and humid conditions and for a range of bird sizes.  Farms involved in the study typically have four houses, two of which are serving as "statistical controls," meaning no change in litter management or feeding practices.
The long-term objective of the research is to promote nutritional and management strategies, housing systems, and manure-handling methods that will reduce emissions.
"Our goal is to help the poultry industry, not just in Kentucky where poultry is now the number two cash commodity, but nationwide," said Tony Pescatore, UK Extension poultry specialist.  "We're going to help producers find out if they have a problem, and if they have a problem we're going to help them solve it and develop ways of increasing their profitability."
Other organizations cooperating with UK on the emissions study are Iowa State University, Pennsylvania State University, the University of Nebraska at Lincoln, Nest Egg Nutrition, Inc., the Kentucky Poultry Federation, PennAg Industries Association, the Iowa Poultry Association, the U.S. Environmental Protection Agency, and the USDA Agricultural Research Service – Mississippi.