Youngsters made baskets and Chinese lanterns, learned to use chopsticks and added new foods to their diet during the Crittenden County Enrichment Camp.
The three-day camp, a joint effort by the University of Kentucky Cooperative Extension Service and the Crittenden County Family Resource Youth Service Center, has used a different country every year to focus activities around. This year China was selected and 2002 is the year of the horse.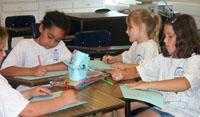 The joint effort really helps both agencies because more children can be served and more activities conducted, said Nancy Hunt, Crittenden County Extension agent for family and consumer sciences. This is the fourth year for the event. The program is open to all children in the county, generally 8-years-old and up. Teens are used as leaders allowing them to gain some leadership experience, Hunt said.
Jessica Hodge, 8, was making Chinese lanterns in her class and explained how they are made.
"We made them with paper, drew designs, folded them in half and cut them," she said. "We've been doing baskets and made egg rolls and tried to eat with chopsticks. All of it is fun."
Educational classes are in the morning and fitness activities held in the park after lunch. The program focused on trying to give them the opportunity to experience something they may not have in the past. Activities included everything from basket weaving to eating with chopsticks to simply eating a yellow bell pepper or water chestnut. Hunt said one goal is to help the youths be more open to new things.
"We have a lot of educational things thrown in with the fun things," Hunt said.
Amelia Gilley, 8, was busy weaving baskets but remembered an earlier lesson that included horses named Peanut and Pearl.
"We learned a little about horses, how to brush them and she let us pet them," she said. "This is fun because you're learning things and doing stuff."
Horse safety fit in well with this year's event for two reasons. First, it is the Year of the Horse in China and second, a young person in the county was killed recently in a horse accident, Hunt said.
A committee plans the activities looking at anything that may be coming up that would be of interest to the children and plans a theme around that.
"This year we decided to do a Chinese theme because in 2008 the Olympics will be there and there will be a spotlight on China. We thought it would be nice if the children knew a little bit about the country before then," said Connie Sue Wallace, Expanded Foods and Nutrition Education Program assistant. "Also, we want to give them some broader ideas about what goes on in the world and not just what goes on around here locally."
Contact:
Nancy Hunt, (270) 965-5236