The Environmental Camping Program maintained by the University of Kentucky College of Agriculture is available to 4-Her's across the state during the academic school year at 4-H camp sites.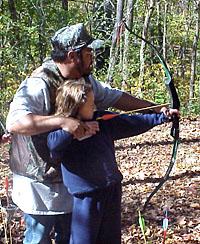 "The Environmental Educational Camping program is centered around the school, said Jennifer Lynn, Extension associate and environmental education director at north central 4-H camp. "The classes are geared toward the Kentucky Education Reform Act and what the teachers are happy to teach. We try to provide not only the content they need but also the hands on experience."
The camp started in the early eighties gives fourth and fifth grade students a chance to participate in a wide range of activities during their one or two day camping experience. The students are given the chance to attend classes on soils, archery, tree identification, fishing, animal skins, birds of prey, storytelling, and they can participate in a challenge course. Lynn said this camp is a lot different then the summer 4-H camp.
"Summer camp is more recreational and is a week long and the kids come here as a part of their program from the county." Lynn said.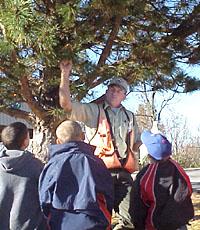 The students are able to relate what they read about in their textbooks to what they see in nature. They also develop social and leadership skills and learn how to work in a team.
"The best method of teaching environmental education and protection is to provide children at an early age with direct outdoor learning experiences outside the four walls of the school," said Quentin Terry, Boone County 4-H youth and development agent. "The program will take the children into the outdoors where they can study, develop personal skills, and learn the essentials of a responsible existence with their environment."
Each student must pay a registration fee and help raise additional funds by having fund raisers. They also rely on community volunteers and donations from county governments, civic clubs and corporations.
The participants stay in cabins, have kitchen patrol and are assigned to adult leaders and volunteers while at the camp.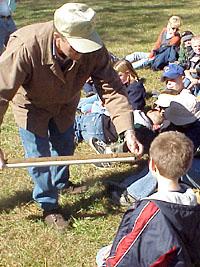 Fourth grade students at Camargo Elementary in Montgomery County recently participated in the camp.
"I liked the archery because you could shoot bows and arrows," Elizabeth Queen said. The students are put into color coded groups. They are given a schedule as to when each group should be at each location. At that location the instructor presents the students with opportunities to learn and ask questions.
"I learned something from the archery guy and something else from the soil person," said Michael Davis, a fourth grader from Camargo Elementary.
The students at Camargo Elementary incorporate what they learned at Environmental Camp to KERA by writing a paper for their portfolio.
"When I have to write a portfolio piece on this, I will say that I learned how to shoot bows and arrows and that you just can't just pull it back with your thumb and pointer finger you have to pull it back with three fingers," Davis said. "At the end I would say that I liked it all."
Contact:
Jennifer Lynn, (859) 289-5308, Quentin Terry, (859) 586-6101