Across Kentucky, agents with the University of Kentucky Cooperative Extension Service are encouraging residents to get more exercise and watch their diet through a program called Get Moving Kentucky! Agents in the sixth district are taking that a step further and are leading by example.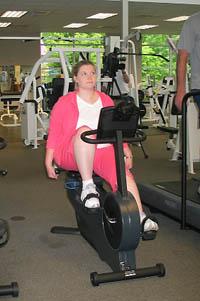 "Get Moving is something we have in all the counties but, as far as we know, there has not been an Extension agent-staff component," said Mindy McCulley, Barren County Extension agent for family and consumer sciences. "We talked about the fact that we haven't addressed this as in 'walking the walk'. We are really good at saying what we need to do, but we need to actually be doing it. So we formed a committee, came up with a plan and started April 1. We have administration, agents and staff signed up. It's a good opportunity for us to work together on something that's good for all of us."

In the first month, more than 15,270 moving minutes have been turned in by the participating agents and staff, for an average of about 40 minutes each. The recommendation for adults is 30 minutes a day, so she said they are making a positive impact. The six-month program has awards as incentives for participants to "get moving."

McCulley said the program has her walking about an hour a day and that her family has gotten involved with one son walking with her in the morning and the other in the evening.

"It's a good opportunity for all of us," she said.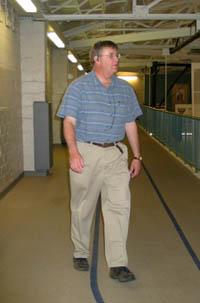 Steve Osborne, Allen County Extension agent for agriculture and natural resources, began watching his diet about the same time as the program began so he incorporated that with a walking regimen at the local YMCA track. He walks about 30 minutes a day and has lost 10 pounds in a month.

"As you get older pounds creep on and you have to do something about it and head off, if possible, health problems in the future and you feel a little better too," he said. "I have enjoyed it and stuck with it so far. I'd like to encourage others to do it too. I know it's hard, but try to set aside a little bit of time before work or after work."

For Valerie Hudson, family and consumer science agent in Monroe County, participating in the Get Moving District 6 program helped give her the incentive needed to begin and sustain an exercise program. Her exercise regime includes using a treadmill and a walking video.

"The first month I've lost seven pounds which is good for me," she said. "Along with that, I'm trying to eat more healthfully, incorporating more low fat dairy products and fruits and vegetables."

Allen County Extension agent for family and consumer sciences Janet Johnson was already an avid exerciser before the program started, but she signed on anyway.

"Extension agents are viewed as leaders in the community and if we are going to talk about getting healthy and having healthy lifestyles, then people look closely and say what are you doing about it," she said. "Just being visible out there in the community moving - that was the idea. Plus with district six, it's a chance to band together with coworkers to kind of promote each other as being role models in the community."

"It definitely helps to have cheerleaders and motivators," Johnson said. "It is a struggle and Extension agents struggle because our schedules often make being active difficult. So, for the community to see us doing this, it is an incentive for others with a hectic lifestyle to try to find a few minutes as well."

For more information on the Get Moving Kentucky! Program contact the Extension office in your county.
---
Contact:
Mindy McCulley, 270-651-3818