For eight weeks, extension agents from the University of Kentucky Cooperative Extension Service's Warren County office have been visiting fourth grade classrooms at Lost River Elementary School promoting nutrition and physical activity. 

"We had some grant money, and we sat down and brainstormed on what we could do to promote physical activity in our community," said Betsy Ann Tracy, Warren County extension agent for family and consumer sciences. "In the fourth grade they are tested on nutrition education so we wanted to get into a classroom. After bouncing ideas off each other, we came up with the pilot program "Get Moving in the Classroom" where we go into the classroom and teach them hands-on lessons."

Each week the classes receive incentives such as a football, jump rope or hula hoop that they can take outside and use at recess. Each child also gets an incentive such as an exercise band or stress ball. In addition, the students keep up with their physical activity minutes and receive awards each week. The girl and boy with the most minutes through the entire program will each receive a bicycle.

"It gives them incentive to hopefully take (the information they've learned) back home, take it to their parents and work as a classroom to encourage each other," Tracy said. "We know that with physical activity, it is really hard to do it on your own, but if you have friends and people beside you everyday working on the same thing it makes it easier to do."

Fourth graders Alexa Anderson and Lori Thompson said they have really enjoyed having the program in their classroom. Both girls said they are trying to eat healthier based on what they've learned from the program. For Lori, that means eating more fruits and vegetables; Alexa is working on including more grains and fruits in her diet.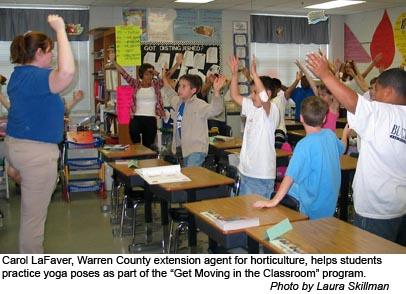 "We learned how to reduce stress and how to get moving," Alexa said. "I get my family involved and we go to the street and walk back."

Lori said she's also learned how to reduce stress and how to exercise. 

"I've learned to use the Dynabands® to build up your muscles," she said. "It's fun to see how far you can stretch them."

The girls' teacher Christy Zinobile said the school was very excited to have the chance to work with the program, as nutrition and physical activity are part of the core content for fourth grade.

"We were excited because not only were we teaching it in class, but to basically have guest speakers come in for this many weeks – the kids love it," she said.

And they are learning, she noted. On a recent field trip, the students were looking at the nutrition labels on their packaged meals comparing fats, carbohydrates and vitamins.

"They really were paying attention and applying it to their real life," Zinobile said. "At recess we've been using the kick balls and toss and catch equipment. They love to have that."

The program is helping them eat better, which helps them in the classroom. Plus, they are learning that they need to exercise, and they are spreading that message to their parents.

"It's not only helping the child, but I think the whole community is benefiting from it," Zinobile said.

Every extension agent in the Warren County office worked to come up with lessons, and they all teach parts of the program. The agents include Tracy; Joanna Coles, agricultural and natural resources; Carol LaFaver, horticulture; and Janet Turley and Julie Brown, 4-H youth development. The grant to develop the program came from the UK Health Education through Extension Leadership Program. They plan to offer the program again next year.

"It was a great way for us to all come together and work on a great program and relay it to a community school," Tracy said.
Contact:
Betsy Ann Tracy, (270) 842-1681