LEXINGTON, Ky., (April 24, 2020) — Necessity is the mother of invention. Bourbon Community Hospital in Paris took that old saw to heart when they, like so many other hospitals and medical facilities in the state, were contemplating how to acquire extra personal protective equipment to prepare for a possible onslaught of patients with COVID-19. The solution turned out to be in their own surgical suites and with the Bourbon County office of the University of Kentucky Cooperative Extension Service.
Janice Kilburn, executive assistant at the hospital, found a pattern online for sewing isolation gowns, but the fabric had to be light, waterproof and able to be sanitized. She tried a couple of prototypes from shower curtains and vinyl ponchos, but when the hospital's surgery director suggested the sterilization wraps used when sanitizing surgical tools, Kilburn knew they'd found the solution. She also knew that she didn't have time to make all the gowns. Luckily, Kay Denniston, the county's family and consumer sciences extension agent, had called her when the coronavirus crisis began and offered extension's help if needed.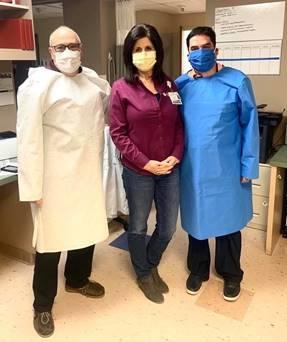 Denniston and Bourbon County Extension Homemaker Patty Justice have made about 20 gowns and will make more if the hospital calls on them. The two-ply wraps are only 1.5 yards square, which makes laying out the pattern pieces time-consuming and like "cutting letters out of construction paper," Denniston said. Each gown is made from one of the plies. Because no one wants to waste any of the leftover fabric, Denniston and Kilburn are considering making shoe covers or surgical caps out of the rest.
This type of hands-on help is typical of UK Cooperative Extension at any time, but it's particularly visible during the present pandemic. In Taylor County, Extension Homemaker Cyndy Humble is coordinating the production of N95 mask covers and caps for Taylor Regional Hospital. Originally, they requested 50-100 surgical caps. Within days, the hospital found that ordering caps through the usual methods wasn't possible due to a backlog, so the Homemakers set out to make an additional 150.
Then the hospital's cancer center requested masks and caps, though this time they needed both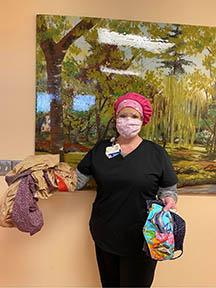 surgical caps and larger ones that would completely cover the wearer's hair. The Homemakers dug into their stashes of cotton quilting material to make the items. To date, they have provided approximately 500 masks and caps to the hospital and local health care providers.
In Hardin County, a local medical facility asked family and consumer sciences agent Dayna Fentress if Cooperative Extension could make 1,000 surgical caps. The facility provided the pattern and all the fabric, and Fentress provided about 15 volunteers. Within a few days, they made 400 caps, but they hit a snag when they ran out of elastic. Elastic is in short supply everywhere, so it took some scrambling, but after finally tracking some down, the team is on track to finish the original order.
"I was tickled that the hospital contacted us early, before the virus really hit in the state and before they heard about extension doing this in other counties," Fentress said. "That means we are well enough known for not only being people who will donate our time and resources, but also for our ability and talent to do it well. I was pretty honored they thought of us."
Though Extension Homemakers do much more than sewing and cooking, Humble pointed out that during times like this, their mission fits perfectly with the need.
"The mission of the Extension Homemaker is that we are making our homes and our communities better and safer places," she said. "That's pretty evident right now in that Homemakers are reaching out to make sure that people are as safe as possible."
UK Cooperative Extension is part of the UK College of Agriculture, Food and Environment. With its land-grant partner, Kentucky State University, the Kentucky Cooperative Extension Service brings the university to the people in their local communities, addressing issues of importance to all Kentuckians.