On a recent rapid-fire trip to Washington, D.C., 14 farmers and University of Kentucky Cooperative Extension agents met with congressional staffers, networked with people from other countries, voiced their opinions and learned a great deal about policy, agricultural markets and government.
Agriculture and natural resources agents Clint Hardy, Daviess County; Michael Smith, Henderson County; Greg Henson, McLean County; Rankin Powell, Union County and Vicki Shadrick, Webster County, and horticulture agents Annette Heisdorffer, Daviess County, and Jeff Porter, Henderson County, were responsible for planning, coordinating and recruiting participants. Hardy admits that from the time the team of agents started developing the idea until the time they departed for the capital, the scope of the trip changed a great deal.
"Our initial idea was for it to be an educational program to expose them to the activities of Washington," Hardy said. "Our participants shifted the program from our original intent. It became an opportunity to go share their opinions and views with Congress. I think the ultimate thing our farmers gained from this experience was that they realized that Washington leadership is much more approachable than they thought they were."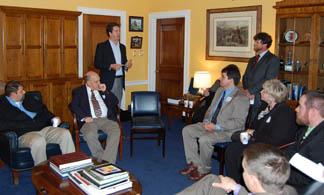 The participants met with the staffs of U.S. Sen. Mitch McConnell and congressmen Brett Guthrie, who represents Daviess County, and Ed Whitfield, who represents the other four counties. At each stop they had the opportunity to talk about issues important to them, which included immigration reform, the farm bill and trade policies.
"If you don't speak for yourself, you've got to wonder who's speaking for you," said Jesse Horn, one of the trip participants, who farms 2,000 acres of corn and soybeans in Daviess County. Horn, who at the age of 30 is considered an early-career farmer, is a graduate of KyFarmStart, a U.S. Department of Agriculture-funded program for beginning farmers and ranchers run by the UK Cooperative Extension Service. As such, he jumped at the chance to continue his education and meet policymakers by going to Washington, D.C.
"I wanted the opportunity to put myself in front of people and say this is who I am, this is what I'm doing, let me know how I can help," Horn said.
Opportunities he certainly had; Horn and the others made contacts not only in the legislative offices but also at the 2013 USDA Agricultural Outlook Forum.
Professor Will Snell, UK agricultural economics, made arrangements for the trip's participants to meet with legislative staffs and to attend the forum, which attracts media, producers and agribusinesses from all over the world.
"Just the chance to network with people outside of your own state or even country I think was good for the group," Snell said.
Sam Hendrickson, from Union County, made the trip too. Hendrickson, who also completed KyFarmStart, farms 2,000 acres with his brother in Union and surrounding counties, raising cattle and growing corn, wheat and soybeans. He was one of 2,000 national recipients of a USDA Transition Incentives Program contract, which provided funds for the transition of expiring Conservation Reserve Program land from a retired or retiring owner or operator to a beginning farmer or rancher, with the intent of returning land to production for sustainable grazing or crop production.He had the opportunity at the outlook forum to tell the USDA representative how much he appreciated the program.
Hardy said that when the farmers stood up to talk both at the forum and to legislative staff, people listened.
"There were very few agricultural producers in attendance (at the forum)," he said. "When our producers stood up at the mic and said, 'I'm an early-career farmer from the eastern Corn Belt,' that got people's attention."
They also got attention from legislative staffers during sessions that were informative for both the staffers and the agents and producers.
"It was good to get a feel for what they do and the processes they have to go through to talk to people and get things done," Hendrickson said. "They've just got so much that they can cover and without someone coming in like us and giving their points of view, they're kind of at a loss. They appreciate people coming in and telling them what's going on out there in the field."
One of the topics they talked to the staff about was crop insurance and how important that tool is to their operations, particularly in a year like 2012 when drought seriously reduced yields.
"I think anybody representing the state of Kentucky could see the real value of that program," Horn said. "We had a pretty tough year here, and crop insurance was a big part of keeping those farm profits in the black. So we talked about the value of crop insurance, how well it worked for us this past year, what issues we saw in the program and how much we wanted their support."
For Hardy, the results of the trip exceeded his expectations.
"In Extension, we're only as good as the people in our community," he said. "So my goal with this trip, and my goal in a lot of Extension programs that we have here in our area, is really centered on leadership development. These folks had the leadership ability to begin with, but we try to identify ways for them to be able to implement that. Throughout their careers, I think they'll draw on this experience."
Contact:
Will Snell, 859-257-7288; Clint Hardy, 270-685-8480