Inside a newly constructed building atop a hill in Hancock County are bins filled with red wiggler worms that will be used to aid in environmental cleanups.
Paul McBride and his family are growing the worms as an alternative farming enterprise. McBride's operation was one of several highlighted during the annual field day of the Hancock County office of the University of Kentucky Cooperative Extension Service.
Diane Perkins, Hancock County Extension agent for agriculture and natural resources, said the county's agricultural advancement council decides what to highlight at the annual field day.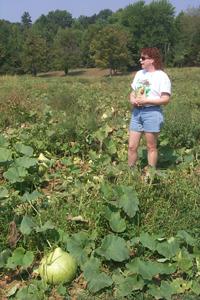 "This year, they decided to look at some new products, new enterprises that we have here," she said. "They wanted to look at the worm farm because that is a completely different project than most people have done, but it is something that other farmers could try. They might convert buildings and get into worm farming. It does take quite a start up cost, but it can be a diversification away from tobacco since that is a big problem for us because of the loss of tobacco, and we are a big tobacco county."
The cost of getting into worm farming can be several thousand dollars. That cost includes a machine that sorts the worms from castings, worms and other supplies.
The McBrides began their operation a little more than a year ago. They grow under contract with an Oklahoma worm farmer. The worms are delivered to Bardstown.
McBride receives $9 a pound for his worms. It takes 1,000 worms to make a pound and his goal is to sell 1,000 pounds a week.
"To get them to grow, you've got to keep the temperature right in the beds – roughly 80 degrees and moist," he said. "They like anything organic as it decays except onions or garlic."
The worms also are fed a protein feed to make them grow. The worm castings make good fertilizer, McBride said.
The worms are used for environmental cleanup. Worm castings are sold as fertilizer.
"It's just like everything else, it is not for everybody," he said. "It's a whole lot like a dairy farm, it's seven days a week."
The next stop was the gourd farm of Joe and Pam Crowder. Pam Crowder sells the gourds via the Internet and only attends a few local craft shows annually, she said. Her basket woven gourd bowls are sold in a shop in Berea.
The family sells plain and decorated gourds as well as seed.
"We've been growing our gourds about three years," she said. "We sell all over the United States and internationally. So far, the furthest we've shipped is to Tokyo, Japan. Everything's done right here, that's why there are gourds all over the porch."
They grow only two varieties – large hardshell ones and small ornamental varieties.
This is the first year they've grown them in a two-acre field. In the past they've been in various spots and pots around their home. They received money through the county's diversification cost-share program that uses money from the state TobaccoSettlement to help increase their production.
"We were going to do this anyway but it allows us to go a little further than we would have been able to go on our own and hopefully get it going sooner than we would have on our own," she said.
Perkins said the Crowder operation was a good place to highlight an enterprise that has used the county's diversification program.
"This is not only a value-added enterprise but it is also one farmers may look at to diversify their traditional corn-soybean-tobacco operation," she said.
In addition to the new enterprises, William Pearce, a University of Kentucky corn breeder, discussed the corn variety trials conducted by the College of Agriculture. One of the sites for the trials is in Hancock County.
A pasture aerator also was on display, and information on composting was available to the 50 or so farmers who attended the event.