Take some soil and water testing, insect collecting, tree identification and measuring, mix it all together in some teenaged fertile minds and let it percolate for awhile. Ideally the concoction will yield savvy and conservation-conscious business and community leaders of tomorrow. 

That is the goal of the annual Kentucky Forest Leadership Program sponsored by the University of Kentucky Department of Forestry and the Kentucky Division of Conservation. For five days in June, 17 high school students from across the state, as well as Texas and Ohio, gathered at the Kentucky Leadership Center in Jabez to study woodland and natural resource management. It's an intensive week filled from early morning until late evening with lessons, research and good-natured competitions teaching campers to see the forest through the trees.

Doug McLaren, UK College of Agriculture extension forestry specialist, said the goal of the program is not necessarily to create future forestry professionals. 

"Our objective is for them to better understand the full impact of forestry in the state of Kentucky and how that resource affects all aspects – the economy, the environment," he said. "What we're hoping is that they go back into their communities and whenever an issue comes up dealing with forestry or any aspect of natural resources, they can comment and make positive feedback based upon knowledge that they learned here, rather than hearsay."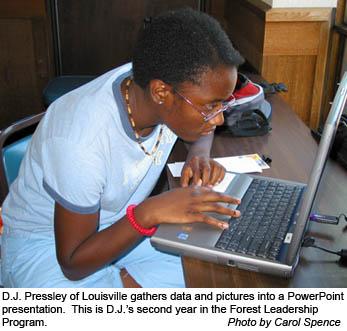 With 47 percent of Kentucky covered in forest and 78 percent of the state's timberland owned by about 423,000 private individuals, woodland management is an important aspect of the state's economic health. In fact, though people may associate Kentucky more with tobacco, the fact is Kentucky's forest industries add $6.4 billion a year to the state's economy. 

"There are over 5,000 products that have been identified that are made or derived from trees," McLaren said. "One of the activities we did (with the teens) was we recognized very quickly that a majority of the products we use on a daily basis are derived from a tree. Some of the plastics are derived chemically from trees, shoe polish, tanning oils, cosmetics. Some of the parts of medicines are derived from parts of trees."

The teens learned land management decisions can have far-reaching effects on them no matter where they live. Amanda Abnee Gumbert, UK agricultural programs water quality liaison and one of the week's coordinators, said it takes small steps to get to the bigger truth. For that reason, instructors at the camp break the larger topic of forestry down into different components such as soil properties, topography, insects and water quality.

"What we want them to know is how land management decisions can impact water. That's the goal of the water testing they do," Gumbert explained. "They have to know the fundamentals of water quality before they can get going with making that overall connection. It's the same thing in society. We have a disconnect with that. We take for granted that we turn the tap on, and the water is clean and we can drink it and it's healthy. And we don't have a connection between a wetland, a lake, a pond and our tap, even though it's the same water."

As Gumbert pointed out, "everything we do on the land eventually is going to get to the water." For that reason, she said, everyone feels the impact of land management decisions.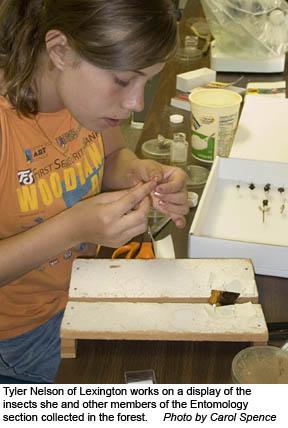 The program is divided into two sections, forestry and entomology. Entomology students spend half their time collecting and identifying insects found in the forest. They also study the overall forest to determine the impact the insects are having - good or bad.

"We ran into Southern pine beetle damage, which is a negative impact," said Blake Newton, UK youth and 4-H entomology specialist, who oversees the entomology thread. "We also talked about the positive impact of that (beetle), because it creates lots of fallen timber for other creatures to use. And we talked about the impact of insects like the termites that do positive things for the forest."

The entomology thread differs from other entomology courses in that it focuses specifically on forest insects, rather than other aspects of agriculture.

"We want the entomologists to learn what their role would be when interacting with the forestry profession," Newton said. 

The three students enrolled in the section discussed their collections of cockroaches, moths and ants. They said one of the highlights of the day was finding a dead turtle filled with carrion beetles, something people don't always run into on their hometown streets of Lexington or Lampasas, Texas or West Chester, Ohio.

In the forestry section, the other 14 students divided into three teams and spent the morning taking inventory of a tree stand. Led by a Kentucky Division of Forestry forester, each team took note of the tree species found within a 74-foot diameter circle and the diameter of each tree, as well as the number of logs it can make. They also inventoried the undergrowth and discussed the kind of management the tree stand required. Jock Van Housten-Gurnee, of Mt. Sterling, discovered that answers lie in the details.

"It's amazing what I've learned here," he said, "how a very slight slope – half an inch to an inch – can change what trees grow there."

D.J. Pressley, too, has learned a lot of "amazing" details in the two years she has attended the forestry leadership program. While many of the teens come from families with some experience in woodlands, D.J. lives in Louisville proper. Her interest in the environment spurred her to enroll in the entomology section of the program in 2006 and to return for the forestry section this year. The Presentation Academy senior plans to major in forestry at UK and continue for a law degree. She is interested in practicing environmental law.

"If I do forestry, it will help me understand what's going on with the environment, so I can better explain in court why it's not healthy for our environment for people to do what they do," she said.

At the end of the week, the campers are required to develop a land management plan for a 65-acre woodland lot, using all the pieces of information they've gleaned over the week. If it seems as if it's a lot to take in during five days, the teens rise to the occasion and benefit from the total experience. McLaren saw tremendous growth in them throughout the week.

"They're learning all of this wealth of information in a short period of time," he said. "They're also learning how to integrate it. They're also learning how to self-manage themselves as well as their crew, because somebody has to step up at some time or another and show some type of leadership."

It's that leadership that McLaren and the other instructors in the program are hoping will ensure Kentucky's woodlands have a healthy future.
Contact:
Doug McLaren, 859-257-2703, Amanda Gumbert, 859-257-6094, Blake Newton, 859-257-7453