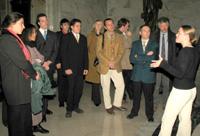 Fertile soils, small farms and diverse agriculture are attributes Kentucky shares with France, a country celebrated around the world for its history, culture and food.
It seems only natural then, that when an elite group of French graduate students recently traveled to the United States to increase their understanding of agriculture they came to Kentucky.
"Many aspects of Kentucky agriculture are similar to those in France and that makes Kentucky an ideal destination for this special group of students who are beyond what we consider our master's degree level here in the U.S.," said Mike Reed, agricultural economist in the University of Kentucky College of Agriculture. "These students are in an advanced, very selective two-year program that specializes in agriculture policy, and when they graduate they will be employed by the ministry of agriculture in France."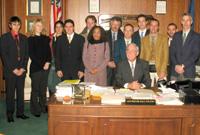 While touring the state in early November, the 10 students and professor Jean-Christophe Kroll visited the UK College of Agriculture, Kentucky Department of Agriculture, governor's office and capitol, a county Cooperative Extension Service office, a dairy, a horse farm, and a beef and tobacco operation.
"You have small farms and because of market problems with tobacco you are developing new crops and new products, and in France and Europe we speak of 'multifunctionality' of agriculture and so it is interesting for us because we manage research programs about agriculture multifunctionality," said Kroll, who specializes in agricultural policy at the National Establishment for Higher Education in Agriculture at Dijon (ENESAD).
In addition to visiting farms and businesses, the group also met with agricultural marketing and policy specialists in Lexington and Frankfort.  Those discussions will enhance the students' insights into the relationship between U.S. farmers and farm policymaking, and enable them to compare the way policy is formed here with how it is made in Europe.
"In Europe we have the Common Agricultural Policy and our experiences here in Kentucky will help us learn more about the economic and technical aspects of policy," said graduate student Marie Papaix. "I am impressed with the nice landscape here, the horses and farms, the organization of the university and the government, and the kindness of the Kentucky people."
The group's visit is part of a continuing faculty and student exchange program established between the UK College of Agriculture and ENESAD, which is in France's Burgundy region.  Following the Kentucky visit, the group traveled to Washington, D.C. to meet with national agricultural leaders and policymakers.
Contact:
Source: Mike Reed, 859-257-7259