Water and sunlight certainly help flowers and trees thrive, but dollars help a garden grow as well.
Recent funding from the Kentucky General Assembly will go a long way toward improving the state's Official Botanical Garden, also known as The University of Kentucky-Lexington Fayette Urban County Arboretum.
On May 21, amid festivities of the "Gala in the Garden" fundraiser, a check for $50,000 was presented to UK agriculture dean Scott Smith and arboretum director Marcia Farris.
"This funding is huge for The Arboretum," Farris said.  "We operate each year on limited funds and this money will go a long way toward general improvements, the children's garden and keeping our educational programs and many other activities going."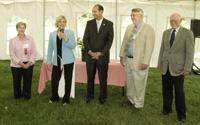 The Arboretum, which is 100 acres of preserved green space near the UK campus in Lexington, was created in 1991 as a joint effort between the university and the Lexington-Fayette Urban County Government.  In March 2000, The Arboretum was named the Official State Botanical Garden.
On hand for the check presentation were Rep. Susan Westrom of Lexington, Majority Floor Leader Rocky Adkins of Sandy Hook, and president of the Friends of The Arboretum John Shaw.
The gala fundraiser featured both a silent auction and a live auction to benefit The Arboretum.
Contact:
Marcia Farris (859) 257-6955