If you live in the far western or southern parts of the state you may not have heard of him.  But for Kentuckians in eastern and central Kentucky the name Robert L. (Bob) Goodpaster is synonymous with "educator."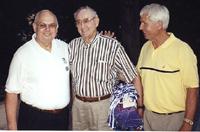 "In my view he epitomizes what an educator should be, and he's a hero to me and many others in this area of the state," said Dan Bailey, coordinator of academic advising for Ashland Community College and University of Kentucky College of Agriculture alumnus.
Bailey is one of the hundreds of former students taken under the wing of the retired Ashland Community College director and given direction and encouragement at a time when it was needed.
"I came to Ashland Community College as a student in the fall of 1964, and while I was here Dr. Goodpaster was not only my mentor but also served as my academic adviser," Bailey said.  "He was a constant source of encouragement not only to me, but to every student who came into contact with him.  As I go around this region of the state I hear from many, many students about how Dr. Goodpaster was an inspiration for them."
"He's always been student oriented," said Greg Adkins, ACC president. "He would do whatever it took to help those students who wanted to continue their education, whether it was writing letters, making phone calls, making personal visits or mentoring."
The story of how Goodpaster became one of the most influential and respected educators in the state began in 1922 in Bath County.
"I was born in Bath but moved to Fleming County when I was five years old," Goodpaster said during a recent interview.  "I attended Flemingsburg High School and had two agriculture teachers who were great role models, Mr. Robert Trigg and Mr. Thomas Lewis.  Both were super human beings who had a great influence on me."
In high school Goodpaster was a member of the Future Farmers of America, and recalls the favorable impression made on him by a visit in 1937 to the University of Kentucky College of Agriculture.
"Mr. Trigg drove a car with an automatic transmission, and he brought us to the campus and we saw the Block and Bridle event, and later he introduced me to several people at the College," said Goodpaster.
Goodpaster entered UK as a freshman in the fall of 1939.  With time away for military service during WWII, he returned to UK and completed his bachelor's degree in agriculture in 1947. During those years he developed a passion for learning, so it isn't surprising that he went on to earn masters and doctoral degrees from UK.  Even before pursuing graduate-level courses he had already developed a guiding educational philosophy.
"If an institution of higher learning is worth its name it has to serve the student, and I decided that in my professional life I was going to help students," he said.
Goodpaster's career in education is a model of continuing achievement.  After teaching vocational agriculture in Franklin and Bourbon Counties from 1947 until 1955, he became superintendent of the Bourbon County Public Schools in 1956.  In 1961 he became director of Ashland Community College, a position he held for 26 years. Before his retirement in 1992 he served as director of Morehead State University's Ashland Area Extended Campus Center.
His impact today is seen not only in the lives of the students he helped – many of whom are now doctors and lawyers and educators – but in the community pride and spirit demonstrated throughout eastern Kentucky.
"Bob and I have always shared a common vision of Appalachia, and that is that it needs to do as much for itself as it can instead of expecting other people to come in and be the great knight that would change things for us," said ACC president Adkins.  "His contribution to education and to this part of the state is enormous, and we're proud that one of the buildings on this campus is named in his honor."
Although Goodpaster has always encouraged students to attend any university they wanted and pursue whatever area that interested them, agricultural education and awareness has continually played an important role in his educational mission.
"Dr. Goodpaster is a great supporter of our county Cooperative Extension programs," said Debbie Murray, UK Extension area program director for Northeast Kentucky. "When I've traveled to various meetings throughout eastern Kentucky I've heard his name mentioned many times as someone who not only helps young people, but who takes a sincere, personal interest in every person he meets."
As Goodpaster enjoys these days of retirement with his wife Pat, he reflects back on what agriculture has meant to him.
"I enjoyed my courses in farm management and ag economics, and they were very special for me," he said.  "I had several memorable ag teachers like professor (E.S.) Good and professor (Frank) Buck and professor (Fordyce) Ely, and I have no reservation whatsoever about recommending to students that they pursue the ag program at UK.  The College of Agriculture has demonstrated a commitment to serve students."