On a crisp fall evening filled with the aroma of freshly prepared food, nearly 100 people came together at the University of Kentucky College of Agriculture's Horticulture Research Farm for "Chefs Afield: An Autumn Harvest Gathering." The outdoor dinner featured UK-grown organic produce and locally raised beef, pork and fish, prepared by some of the top chefs in the region. 

The purpose of the evening, according to Mark Williams, UK assistant professor of horticulture, was to highlight the organic horticulture research and education section at South Farm. 

"This event," he said, "increases the awareness of sustainability initiatives that are happening at UK. I hope that this facility and what we're doing here continues to grow in terms of research, education and outreach activities."

The college is offering a new undergraduate degree program in sustainable agriculture. It's a program that promises to have a widespread effect on the commonwealth. Though the degree program is brand-new, Dewayne Ingram, chair of the Department of Horticulture, said that sustainable techniques have always been an important part of the research program in the College of Agriculture.

"However, we're focusing narrower and focusing broader (with the new sustainability initiatives)," he said. "Focusing narrower in terms of the technologies being developed for sustainable systems and organic systems, but broader in terms of a larger scale community aspect of sustainability."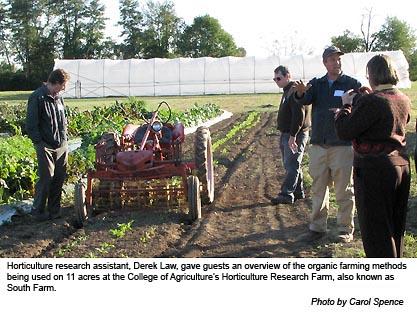 To that end, 11 acres of South Farm have been designated for research and education in organic farming. Guests at "Chefs Afield" were treated to talks and tours of the organically managed acreage. Everywhere, they saw examples of how Williams, his staff and students were producing healthy plants over an extended growing season within a sustainable system.

Bell peppers still flourished in mid-October, protected beneath high tunnels made of a translucent plastic material, while their counterparts growing in the open air showed significant frost damage from a cold snap the night before. In another field, rows of late-season greens thrived beneath row covers of reemay, a spun cloth barrier that protects the plants from insects. Research assistant Derek Law pointed out cover crops such as buckwheat, rye and hairy vetch that were important in improving soil fertility naturally.

Williams talked about how social responsibility is one aspect of a sustainable system.
"From my standpoint, one of the hallmarks of sustainable agriculture is supporting local farmers and supporting agricultural production systems that occur locally," Williams said. "It keeps the money not only in the state, but it preserves our very rich agricultural heritage." 

At the same time, Williams said, the consumer can have access to fresh, high quality products.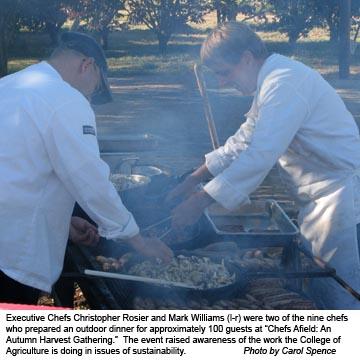 Though autumn made itself felt with falling evening temperatures, "Chefs Afield" guests warmed themselves with an array of delicacies cooked in the open air. UK's coordinator of the newly created Food Systems Initiative, Chef Bob Perry led a team of chefs that included Executive Chef Mark Williams of Brown-Forman Corporation; Ouita Michel of Holly Hill Inn; Brian Dublow of Centre College; Christopher Rosier from Kentucky Country Day School in Louisville; Lexington chef Jim Plymale; Nancy Russman, who has worked extensively with the Kentucky Proud program; Robert Hoilman from the LaGrange Farmers' Market and Darrell Slone of the UK College of Agriculture.

A variety of appetizers, such as butternut squash bisque and smoked Kentucky catfish on ubatuba peppers, were made from fresh produce grown only a few yards away. The first course was followed by an abundance of salads, entrees, side dishes and desserts, including white sweet potato, banana pepper and goat cheese risotto, and pumpkin fritters. Many of the ingredients were picked just minutes before the chefs prepared them.

Eating seasonal foods in season is a concept that is integral in a sustainable system and this dinner supported that view. It is an idea promoted by the Slow Food movement, whose developing UK student chapter benefited from the dinner's $25 ticket price.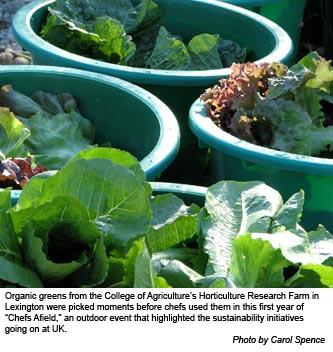 According to its Web site, Slow Food USA is "dedicated to stewardship of the land and ecologically sound food production," as well as "to the invigoration and proliferation of regional, seasonal culinary traditions."

Chef Bob Perry stood in front of a buffet table lined end to end with fresh fall fruits and vegetables from the UK organic research and education farm. 

"We all used to eat seasonally," he said. "It's only been in the last 30 years or so that you've been able to get strawberries and peaches in the winter, pineapples in the summer. This dinner in particular is a fall harvest dinner. We're serving a lot of winter squashes, a lot of pumpkins, the last picking of the green beans."

The turnout for this first "Chefs Afield" event at UK was heartening to Williams.
"I think the attendance, support and energy felt here tonight is a clear indicator that there are a growing number of people who are interested in maintaining the farming heritage that we have in this state," he said.
Contact:
Mark Williams, 859-257-2638, Dewayne Ingram, 859-257-1758, Bob Perry, 859-257-8890