Within a few weeks farmers will begin the task of harvesting this year's grain crop under a cloud of continued high energy costs.

Harvesting, drying and storing grain use a lot of energy, but there are some things farmers can do to try to lessen the usage, say engineers with the University of Kentucky College of Agriculture.

Farmers should make sure they are operating their combines, tractors, trucks and other equipment as efficiently as possible, said Scott Shearer, UK agricultural engineer. That means doing things as simple as using the proper tire inflation levels for field and road driving and changing fuel filters. Tires should have higher pressure levels for road use and lower pressures for field use to maximize efficiency.

Combine operators should keep the threshing mechanism full when possible, he said. This enables the machine to operate at peak performance, thereby harvesting the most grain for the least fuel.

Farmers should also minimize engine idle time while equipment is warming up, while waiting to fill a truck or wagon with grain, and while waiting to unload. They may want to also consider major changes in field practices, Shearer said. It may be time to begin asking questions such as, does the benefit of chopping stalks justify the additional expenses, or is it time to consider reducing or eliminating tillage operations? 

Drying harvested grain can be costly depending on the amount of drying needed and the type of fuel used. Most farms in Kentucky use liquid propane gas, along with electricity, as their main energy source for drying grain. The price of LP gas is higher than it was a year ago, while natural gas prices have dropped. For farmers with the ability to use either source, natural gas looks to be the better deal based on current pricing, said Sam McNeill, UK agricultural engineer.

A fuel cost comparison spreadsheet has been designed by McNeill and is available on the UK College of Agriculture's biosystems and agricultural engineering department's Web site at http://www.bae.uky.edu/smcneill.

Allowing grain to dry in the field as much as possible before harvest can greatly reduce costs, but this must be weighed against possible harvest losses, especially in fields suffering from insect damage where weakened stalks could lodge, he said. Most farmers won't have a fuel option and for those the question comes down to how long to allow for natural field drying.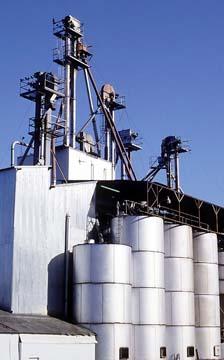 The answer depends largely on harvest capacity, dryer performance, the price of corn and drying energy (gas and electricity), and labor costs. But the trade off often boils down to weighing the cost of excess harvest losses against energy costs for drying, McNeill said. Excess losses are those incurred by leaving the crop to dry in the field and can be 2 to 8 percent above normal loss levels of 1 to 2 percent that have been reported for timely harvest.

To test for stalk damage, which can lead to high yield losses, push stalks above the ear about seven inches off center and see if they return. If they do not, there could be a potential lodging problem, said Chad Lee, UK grains crop specialist. Fields with a high potential for stalks to fall and lodge should be harvested first to reduce possible yield losses.

To evaluate their harvest decision, producers need to look at typical yield levels, harvest losses and corn prices at a fixed drying cost for their operation, McNeill said.

For example, consider a potential corn yield of 150 bushels per acre, excess harvest loss of 5 percent above normal losses of 1.5 percent and a selling price of $2.50 per bushel. The value of the extra corn left behind in the field, 7.4 bushels, is $18.47. Comparing this figure with the cost of artificial drying shows that $16.59 per acre is needed to remove five points of moisture from a bushel of corn. Energy costs are based on $1.40 cents per gallon for LP gas and 7 cents per kilowatt hour for electricity. So, the economics for this situation favors heated air drying.

On the other hand, if corn moisture must be dried by 10 points and all other figures remain the same, the cost of drying increases to $26.87, which is $8.40 per acre more than allowing it to dry in the field. However, this cost can be justified if weather threatens the crop or harvest losses approach 7.5 percent.

Each farmer must determine the best option for his operation, but to help in his decision making, cost comparisons between artificial and field drying can also be found athttp://www.bae.uky.edu/smcneill.
Contact:
Sam McNeill, 270-365-7541, ext. 213, Scott Shearer, 859-257-3000, ext. 218, Chad Lee, 859-257-3203